The UK Royal Navy has rescued a small snowbound team of UK polar researchers on the Antarctic peninsula after tonnes of snow buried buildings and damaged a roof at their research base.
Sailors from the Royal Navy ice patrol ship HMS Protector, the only ice patrol ship belonging to the Navy, spent two days clearing snow and carrying out repairs at the Port Lockroy site, where a UK Antarctic Heritage Trust team carry out their research. Between two and four metres of snow have fallen in recent days.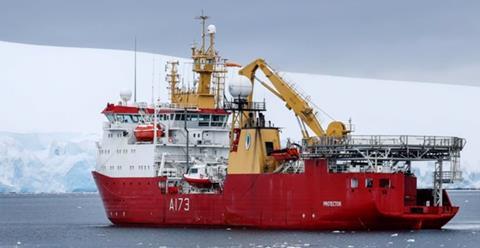 Equipped with two cranes capable of lifting up to 60 tonnes, the 4,700HP HMS Protector has a 5,000-tonne total displacement and can sail through ice with a thickness of half a metre. She pays regular visits to international bases in Antarctica, delivering supplies and monitoring climate change such as glacial retreat and melting ice. Data are recorded with hi-tech sensors and used to update seafaring charts
"Protector's marine engineers used traditional naval damage control methods using wooden stakes and blocks to stabilise the structure, similar to how they would support a deckhead or bulkhead on a damaged warship," the Navy reported.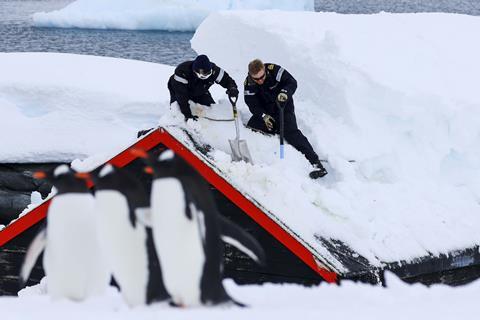 "It is good for the ship's company to step ashore and help out. The sailors were all smiles and happy to get cracking on with such a worthwhile task," said warrant officer First Class Lee 'Rattler' Morgan, Protector's executive warrant officer, paying his second visit of the year to Port Lockroy. ''I was taken aback by the sheer amount of snow and how the buildings had all but disappeared."
Despite fears that the planet is warming, research by various organisations, including a 2015 NASA report, show ice density at the South Pole is increasing.
In February 2022, a report in EOS, the science magazine published by the American Geophysical Union, showed the extent of ice at the Antarctic has been increasing for the last 40 years.