Major salvage companies regularly make the news and it is easy to overlook smaller regional salvors so this month we briefly look at operations which may otherwise miss the front page.
Following the fire and subsequent sinking of the yacht Reine d'Azur in 60m of water off the northern side of Île Du Levant, France and after an International Invitation to Tender, Greek maritime services provider Spanopoulos Group was awarded a contract to undertake the removal, recovery and proper disposal of the wreck and any of its parts, pollutants, debris and stores within 50m of the site.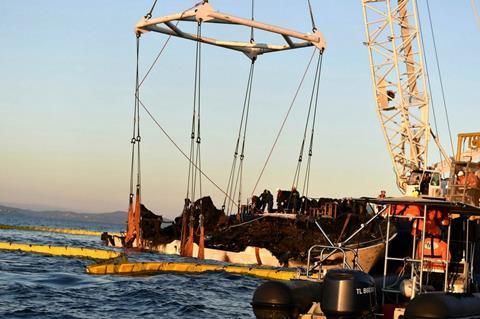 Spanopoulos deployed its 52tbp tug Christos XXXIV, 400t lift floating crane Ignatios III and support craft Antipollution 1 with diving company Eirl Applisub subcontracted to assist with the floating crane for installation and later removal of diving equipment.
Pollution prevention was as standard a high priority during the operation with booms deployed across the wreck site, including the wreckage footprint and complete working area of the crane and diving operations.
Absorbent booms were also deployed in the radius of the working area of the crane's boom. The wreck was lifted from the seabed and placed temporarily on a barge along with the collected debris and an official ROV underwater survey completed to the satisfaction of the French authorities' representatives.
Praise for speedy action from ISU Bangladesh Associate Member Prantik Bengal Salvage and Diving in Chittagong Port followed when the 1,105teu containership Haian City sustained serious damage following collision with the tanker Orion Express. Large holes in the container ship's hull resulted in significant water ingress with greatest danger from a hole measuring 22' by 26', which was fixed by divers welding a huge 33' by 40' steel patch below the waterline.
With the risk of the ship breaking up in the main channel into Bangladesh it was decided to bring it into port, an operation carried out by six tugs, four from Chittagong Port Authority and two from Prantik, along with two recovery and pollution control vessels. The extra water in the vessel had increased its draught to 11m, 1.5m more than the permitted draught of 9.5m at the jetties at Kamaphuli.
The seabed at Kamaphuli Dry Dock was therefore dredged to berth the ship there. After two months the vessel was cleared for a single voyage to Singapore for permanent repairs.
Captain Md Anam Chowdhury, President of the Bangladesh Merchant Marine Officers' Association, said: "If Prantik was not there, we would have had to bring expertise and logistics from abroad to rescue the vessel."
Nippon Salvage
Continuing this look at operations of a global nature, Nippon Salvage was formed in 1893, the Tokyo-based salvor's fleet including Koyo Maru, a traditional salvage tug design seldom replicated nowadays, whose capabilities set it aside from other similar deepsea tugs, including a range of up to 23,000 miles and maximum speed of 18.15kn.
Nippon was on hand when the container ship CSL Santa Maria reported machinery failure five miles northwest of Okinoshima Island. With a risk of the vessel grounding, the tugs Hayashio Maru and Kairi were dispatched, a salvage team boarding the disabled vessel to secure a towing connection whereafter CSL Santa Maria was towed to Yeosu, South Korea.
Other recent work for Nippon Salvage includes oil extraction from two sunken vessels in 110m and 80m water depths. Saturation diving equipment deployed on the DP barge Kaishin was used on the operations.
Harbor Star Shipping Services may not spring to mind as a prominent or well-known salvage service provider, but the Philippines-based company's expertise and experience were put to the test when the Supramax bulk carrier Ambition Journey hit an unknown object while sailing from Homonhon, Philippines to Tieshan, China.
The vessel was loaded with 49,550t of nickel ore and it soon became clear it had sustained major damage, with two of the five cargo holds flooding with oil and sea water, ballast tanks and fuel oil tanks also contaminated.
The ship was intentionally grounded to prevent possible pollution and the nickel ore cargo transferred to barges and returned to Homonhon island for disposal.
Ambition Journey was successfully refloated and towed to Davao for sheltering and it was eventually decided that the ship would be scrapped, the salvage operation successfully performed by Harbor Star along with its co-salvor US-based T&T Salvage.