New Jersey US-based salvor Donjon Marine and Donjon-Smit and its alliance with Dutch company Smit Salvage have updated details of what was a busy 2021.
Marine salvage and wreck removal can be lengthy affairs stretching into months or even years, resulting in works-in-progress updates. Donjon's reflection on 2021 demonstrates that expertise developed for marine environments can provide valuable solutions when extreme weather events occur in coastal environments.
A more traditional response was called for when in April a lift boat capsized south of Port Fourchon, Louisiana. Donjon-Smit alliance was the vessel's OPA 90 Salvage and Marine Firefighting provider and Donjon, along with JV partner Smit Americas Salvage, provided personnel and an array of assets including Donjon's heavylift vessel Chesapeake 1000. Removal of the largest sections got under way with work reported as on-going.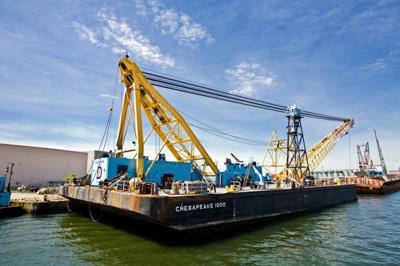 In August, on the 16th anniversary of Hurricane Katrina, Category 4 Hurricane Ida made landfall at Port Fourchon, Louisiana and Donjon's Chesapeake 1000 and its ocean-going tug Atlantic Enterprise remained in Port Fourchon during the storm. The company was quickly tasked by the US Navy to carry out emergency response and recovery operations including assisting the US Army Corp of Engineers in emergency pumping operations in flooded areas, techniques that often form the backbone of marine salvage work.
Dewatering stations were established and work expanded to removing vessels and returning waterways, including the Mississippi River, Intercoastal Waterway and Bayou Lafourche, to their normal operating condition with multiple salvage teams deployed to remove sunk and grounded vessels.
December saw Donjon activity stretch beyond the Gulf of Mexico when the Dry Dock #4 lost power to its pumps in the middle of a docking operation in New York harbour. The dock immediately started taking on water and the port wingwall was completely submerged within hours. Donjon was subsequently awarded the contract to salvage the dock. Key assets and personnel were quickly mobilised to the site where preparations started immediately.
The team quickly made use of the dock's existing pumps to maintain the starboard wingwall while fabricating and installing large cofferdams onto the port wingwall for the installation of pumps. Divers undertook a condition survey to determine the salvage methodology and carried out significant patching, and upon completion of the work the dock was refloated and delivered to its owners.