Sanmar Shipyards has teamed up with Northampton UK-based energy chain systems manufacturer igus Ltd to develop a shore 'bunkering' system for electric tugs.
Tugs featuring electric storage systems in the form of batteries, be they hybrid or all-electric vessels, are increasing in number, a trend that will no doubt increase further as battery and associated technology improves.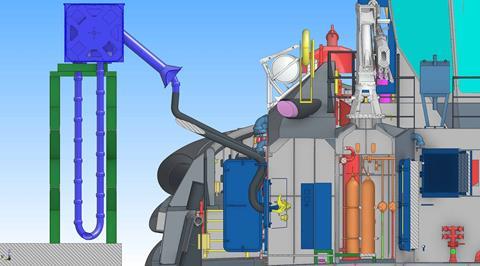 Vessel owners and operators will of course already be geared up for bunkering of fossil fuels along with 'plugging in' to a shore electricity supply to run onboard services while the tug is alongside, but charging battery systems requires more than just running an extension lead from the office.
Sanmar and igus have recognised this new requirement for potential customers by developing a compact quayside Shore Power Dispenser System that can be operated by just one person. The modular design allows a system extension to provide higher charging power capacities, each module able to handle 500A current capacity up to 1,000V AC.
All-electric tugs individually configured for specific operational roles may still be small in number, typified most recently by entry into service of Sparky for Auckland Ports based on Damen's RSD-E 2513 tug, but a number likely set to increase (battery-powered ferries are a particular area of growth).
The system will be of relevance considering Sanmar's work with Robert Allan Ltd and battery provider Corvus Energy to develop the ElectRA range of electric tugs, five designs between 19m and 28m in length and offering up to 70tbp.
The cable management system is operated with a radio remote control, allowing one-person operation, connection and disconnection requiring 'only a few minutes'.
Specific features of the 'electric bunkering system' include: a modular and compact system; charging capacity that can be extended by increasing the number of modules; each module support structure's height designed according to port requirements; selective deployment length and adjustable arm length; a ready-to-install plug-and-play solution; extra cable protection by Triflex TR energy chain; and adopting standard components rather than project-specific special solutions.
Tamer Geckin, R&D and Electrical Systems Director Sanmar Shipyards, said: "Our vision of a future sustainable carbon-neutral tug and towing sector will depend on simple, easy-to-use and efficient infrastructure at ports and harbours around the world. We are proud to be at the heart of this transformation through innovation and technological advance."