German propulsion system manufacturer Schottel has reported that its RudderPropeller thrusters will power the world's first hydrogen-powered tug under construction in Spain for the fleet of Port of Antwerp-Bruges.
Shiphandling tug owners mulling over their options when considering which 'fuel' to use for their new vessels have quite a choice now.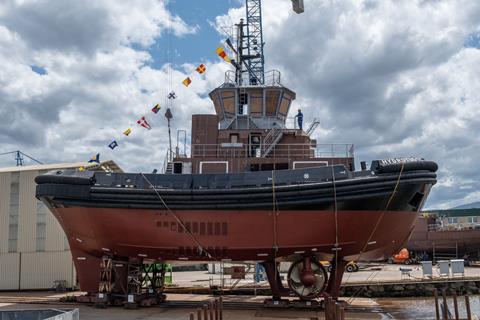 Requirements and restrictions within the area of operation will of course have an influence along with the availability of different fuels at the vessel's home port, and with commentators in the energy industry viewing LNG as a transitional fuel other options including biofuels are gaining popularity.
All-electric tugs are perhaps different, being more location-specific, but looking to the future, hydrogen is attracting attention (including for non-marine applications) and is the option Port of Antwerp-Bruges has chosen as part of its transition to a sustainable CO2-neutral port in what promises to be a significant European tug delivery in early 2023.
In associated news, Port of Rotterdam earlier reported that in collaboration with exporting countries and others, it can supply Northwest Europe with 4.6 million tonnes of hydrogen annually by 2030, including from Shell's plant at Maasvlakte 2. This is due to commence producing hydrogen in 2025 using renewable energy from Hollandse Kust (noord) windfarm for Shell's energy and chemical park in Rotterdam, replacing some of the grey hydrogen use at the refinery as well as expanding the refueling network, in particular for commercial road transport.
The main propulsion system for Port of Antwerp-Bruges tug will be Schottel RudderPropellers type SRP 460 (2,000kW each), featuring 2.4m diameter propellers producing around 65tbp for the 30m long, 12.5m wide vessel.
The thrusters will be driven by combustion engines burning hydrogen in combination with diesel. Hydrogen combustion does not emit any CO2 and particle filters combined with the catalyser will result in minimal emissions of NOx and particulates.
The tug was launched recently by the Spanish shipyard Astilleros Armon and is due to commence operations at Antwerp in early 2023.
Jacques Vandermeiren, CEO at Port of Antwerp-Bruges, said: "With the Hydrotug, the Port of Antwerp-Bruges is making an important step in the transition to a sustainable, CO2-neutral port. The port is systematically pursuing a policy of making its entire fleet eco-friendly by incorporating the most environment-friendly technologies available on the market."