Uncrewed Surface Vessel maker SEA-KIT has started fitting out its first 18m hull in the firm's new facility, which opened its doors in October and is expected to triple production.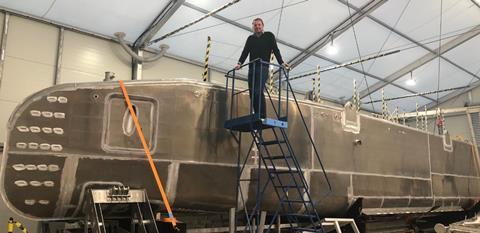 The Essex, UK-based firm says the 18m XL class vessel is destined for geo-intelligence specialist Fugro.
As well as the 18m craft, two 12m X- class essels are in build, and the firm has won patents for both models.
"It is great to go into 2023 with the new facility up and running," said CEO Ben Simpson. "With the addition of this building, we have tripled production capacity and expanded our R&D area. It gives us more, much-needed space for the ongoing development of launch and recovery systems for ROVs and AUVs, mast gondolas and sensor deployment systems, as well as enhancing manufacturing efficiencies for multiple USV builds."
SEA-KIT's testing and research vessel, Maxlimer, will also be getting prepared soon for another mission following the subsea volcano survey project in Tonga that was carried out last summer.
"The industry is collaboratively working towards ambitious net zero emissions targets and uncrewed vessels are already a critical part of our maritime future," said Simpson.