SEA-KIT International has won funding to design a hydrogen-powered uncrewed surface vessel (USV).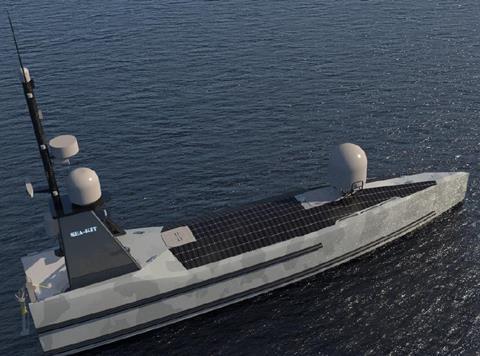 The vessel, says CEO Ben Simpson, will be suited to deep water offshore operations as well as coastal survey and the launch and recovery of ROVs.
"The combination of highly capable surveying and inspection instrumentation, improved safety gained from uncrewed, remotely operated vessels and zero carbon emissions will make a very compelling alternative option for the offshore energy, defence and scientific research markets," he says.
The funding has come from the UK government's Round 2 of the Clean Maritime Deomonstration Competition (CMDC2), in which £14 million (€15.9 million) was shared among 31 projects claiming to deliver feasibility studies and collaborative R&D projects in clean maritime solutions.
SEA-KIT says its project will showcase a diesel to hydrogen conversion in its USV with a hydrogen fuel cell designed by Bramble Energy
"The SEA-KIT H-Class USV is a highly configurable design based on operational data and feedback from the company's established X-Class vessels. Design work will be carried out in accordance with the Lloyd's Register Approval in Principle process to ensure, as far as possible, that the resulting unmanned technology will satisfy regulatory requirements," says SEA-KIT.