Corvus Energy has completed successful sea trials of its new energy storage system the Corvus Blue Whale ESS.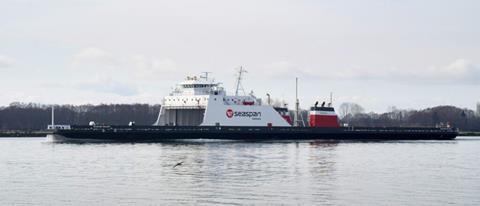 Tests resulting in successful completion of customer acceptance testing (CAT) were conducted on board Seaspan Reliant, a drop-trailer cargo ferry owned and operated by Canadian operator, Seaspan Ferries Corporation (SFC).
"SFC has an innate desire to minimise fleet emissions and has successfully integrated Corvus propulsion battery systems onboard four SFC dual fuel hybrid ferries," said Harly Penner, general manager at SFC.
"The new Corvus Blue Whale ESS system is a natural addition to our fleet and is a remarkable product which is particularly well suited for the Reliant's existing architecture."
Fuel-efficient
The new Blue Whale battery, which replaces a battery with only a quarter of the upgraded energy capacity, will allow SFC to perform engine load optimisations, without sacrificing vessel speed, resulting in higher efficiency operations and minimising the requirement of dual generator operations.
During the sea trials, the technology discharged the battery system to 3% capacity, while still outputting peak power to propel the vessel. The plan is to be able to operate on a single generator using the battery system to maintain target speeds, which will reduce fuel costs and total engine hours.
In addition, the 1.8 MWh capacity of the Reliant's new system affords new modes of operations, such as powering the vessel by battery power only during port cargo exchanges.
The inaugural voyage for Corvus Blue Whale ESS is the culmination of over three years of research and development initiated by Corvus.
Corvus's Blue Whale ESS is targeted towards vessels in need of large amounts of energy over time due to, for example, long distance sailing and able to charge over a half an hour or more. Such vessels may include: Ro-Ro, Ro-Pax, cruise ships and merchant vessels, as well as smaller vessels like fishing vessels, offshore vessels and ferries.
It has been designed to scale to multi-megawatt hour energy capacity with extremely high volumetric battery room energy density and, consequently, maximum passenger or payload opportunities.
Volumetric battery room energy density is achieved with numerous design innovations including self-supporting modules in rack-free stacks and integrated connections allowing battery rooms with narrow or no service aisles. The system stack height is flexible, which means all available space in the battery room can be utilised.