Belgian dredging giant Jan de Nul has confirmed it will begin dredging a small port in Bangladesh as part of major works that the nation says will transform it into a world-class facility.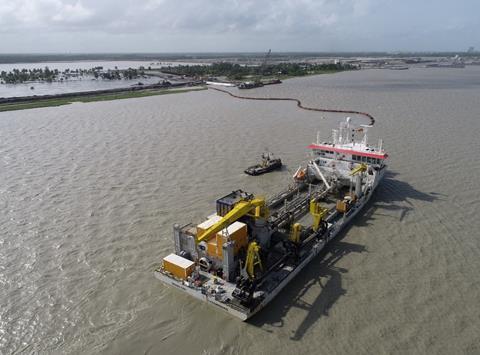 Payra Port was inaugurated in 2013, according to local media outlet TBS News, which said that since then, just 236 sea-going ships had arrived.
Once the capital dredging is completed by Jan de Nul at the end of 2023, the Rabnabad channel will be 75km long by 125m wide, with a depth of 10.5 metres. It will mean a capacity for docking of 40,000 tonnes of cargo or 3,000 containers, TBS News says.
Jan de Nul says it has 'moved the world' to supply Payra Port with the works needed.
"In recent months, several kilometres of pipelines, pontoons, heavy machinery and support vessels were prepared, adapted and mobilized by means of large bulk carriers, calling directly to Payra Port," the firm says. "Because of the extremely challenging sea conditions, customized parts needed to be fabricated and existing equipment needed to be reinforced. Jan De Nul employed its logistical hubs in Singapore, Dubai and Belgium to supply the project."
Jan de Nul, which has the contract for mainteance dredging, also said many kilometres of retaining dykes are having to be constructed, creating a reclamation basin that will be filled with sediment dredged from future berths and inner channels.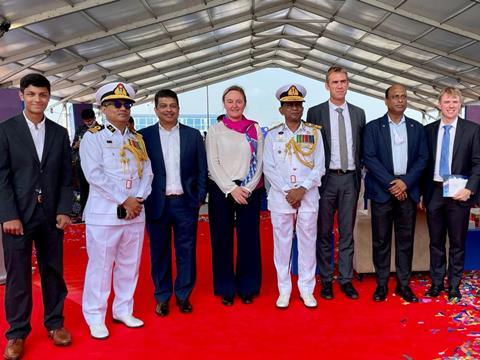 Jan De Nul Team with Rear Admiral Sohail, Chairman of Payra Port, Commodore Rajib Tripura, Member Engineering and Scheme Director of the Capital and Maintenance Dredging Project and Mr. Rafiul Hasain, Member Finance and Administration of Payra Port.
As the intention is to enable the port to receive the world's container ships, work also needs to be done to ensure roads and bridges can cater for the increased loads.
As such, a six-lane, 6km road is being built courtesy of Spectra Engineers, along with a 1km bridge over the Andharmanik River, TBS News says.
Once this is complete, 'three foreign ships carrying containers or bulk cargos will be able to dock simultaneously at the Payra Seaport', the outlet says.
The work has been funded by the Bangladesh Infrastructure Development Fund, the outlet quoted Prime Minister Sheikh Hasina as saying.
It also said that eight vessels had been bought for the port, including two pilot vessels, two heavy-duty speedboats, a buoy-laying vessel, a survey boat and two tugboats.