Sembcorp Marine will maintain the biggest offshore wind farm in the world under a new contract with Ørsted.
Hornsea 2, just off the UK coast, will be maintained Sembcorp's wholly owned subsidiary Sembmarine SLP with a Preventative Maintenance contract for Ørsted to maintain and service the low voltage ancillary systems at the offshore substation and reactive compensation station, with the possibiilty of a service extension.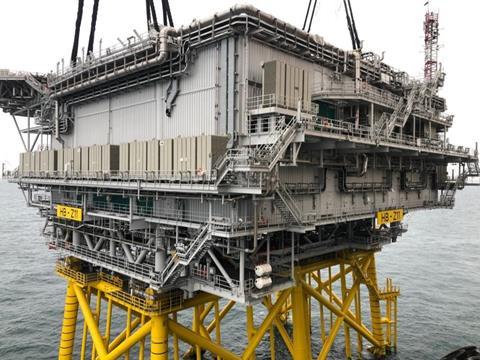 It is the first ole supplier maintenance contract awarded to Sembmarine, amd aligns with the company's strategy to transition from fabricator to service provider in the offshore renewable space, the firm says.
Headquartered in Singapore, the Group has close to 60 years' track record in the design and construction of rigs, floaters, offshore platforms and specialised vessels, as well as in the repair, upgrading and conversion of different ship types.
It has been contracted to help Ørsted reach its goal of installing 30GW of offshore wind by 2030. Hornsea 2 covers an area of 462 square miles which, the company says, is the same as 64,000 football pitches. It has a toital capacity of 1.3GW and can power 1.4 million homes when the wind is blowing.
"This exclusive contract will position Sembmarine SLP as Ørsted's main service provider for Hornsea 2 Offshore Wind Farm's LV and ancillary systems, enabling enhanced operational efficiency and greater risk mitigation for the developer," said Sembmarine managing director Colin Yaxley.
After China, the UK owns the most offshore wind farms in the world, with 229.