As the burning cargo ship Fremantle Highway is towed to a temporary location, reports have come out that as many as 500 electric vehicles were on board.
The Dutch Ministry of Infrastructure and Water says the burning Fremantle Highway has been towed by two tugs – believed to be SMIT Towage tugs – to a temporary location 16 kilometres above Schiermonnikoog and Ameland and 66km from where it caught fire.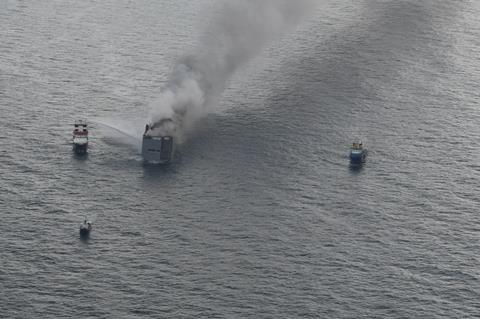 "The towage of the ship went without any problems," the ministry said. "Due to the cooperative flow during the second part of the tow, it was possible to sail faster than previously calculated. The smoke development of the cargo ship also remained minimal during the entire towing route."
The ministry says the intention is to anchor the vessel and allow a salvage team to board as soon as possible to carry out an inspection. An oil control vessel, Arca, also remains nearby.
Recent reports are suggesting that there could have been as many as 500 electric vehicles on board, contrary to earlier claims that there were just 25. The cause of the fire is still unconfirmed, however lithium battery fires are notoriously difficult to extinguish and can spread easily. Lloyd's List also quoted the Dutch Coastguard saying that a crew member had told them the blaze had started near the electric vehicles.
"The final port is not yet known," says the Dutch ministry. "This partly depends on the situation on board the cargo ship, the expected weather conditions and an available with the right facilities."
A spokesman from Boskalis, which owns SMIT Towage, refused to give Maritime Journal further information on the towage and salvage operation because all press enquiries were being channelled through the Dutch ministry.