Different platform heights pose no problem with a new gangway from SMST, the company says.
Dutch maritime equipment maker SMST has unveiled an upgraded version of its gangway system with a new height adjustment capability that allows safer transfer of people and cargo between platforms of very different heights.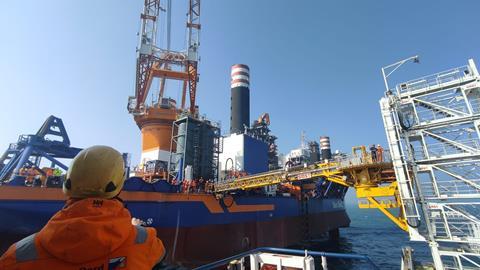 SMST has rented out its motion-compensated Telescopic Access Bridge L-Series, the next one in line to its M-Series, to the Italian shipping company Marnavi, which is using it on its multi-purpose supply vessel Ievoli Amber currently operating at the Saint-Brieuc offshore wind farm developed by Ailes Marines, an Iberdrola company.
SMST says Marnavi is the first company to use the latest gangway system.
"It enables safe and efficient transfer of people and cargo in offshore wind parks with large differences in landing heights and also extreme heights," the company says.
The gangway is placed on seven stacking modules and the new integrated system means it can travel vertically up to 16 metres over a rail attached to them.
"Connections to offshore platforms can now be made with a large window of landing heights and comfortable crossing and maximum workability is possible at every level," said SMST sales manager Jelle Dijk.
SMST, based in Drachten, also makes systems for access, lifting, drilling and pipe lay.