A remediation project has been completed at a former Belgian power plant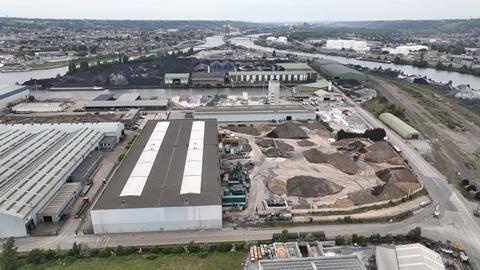 Envisan, a subsidiary of the Jan De Nul Group, has completed a depollution project at the former ENGIE Awirs power plant near Liege, which is currently being deconstructed.
"Thanks to our methodology based on waterway logistics and on the use of our processing centre located in the Port of Monsin in Liège, we did take on this challenge successfully," said Dimitri Descamps, commercial manager, Envisan.
"The Envisan physicochemical washing process, the first unit of this type in Wallonia, offers a decontamination solution for polluted soil and the transformation of these into secondary construction materials on the Walloon, Luxembourg and French markets."
Mammoth project
In just three months, Envisan transported 220,000 tonnes of soil by waterway to its soil treatment and valorisation centre in Liège.
As part of its commitment to the circular economy, the company was able to transform a lot of the soil received into washed sand and aggregate, to be reintegrated into the local construction market.
Envisan said it consciously opts for transport by waterway when carrying out its treatment and remediation projects, thereby considerably reducing its carbon footprint. By using the waterways in this project, Envisan managed to make a saving of 8,500 lorries on the roads and a C02 saving of 750 tonnes.
Emile-Louis Bertrand, director-general of the Autonomous Port of Liège, said: "As crossroads for the flow of raw materials, products and waste that circulate in our economy, our concession holders possess a huge expertise in the logistics, storage, management and processing of waste. Therefore we support Envisan, who chose the circular economy path and who, with this project and its activities, aims at reducing its carbon footprint and its environmental impact, noise and the number of lorries on the road."
ENGIE is cleaning up the site to prepare for the construction of its new combined gas and steam turbine power plant (GST power plant).
Physiochemical washing unit
In 2021, Envisan installed the first Walloon physicochemical washing unit in Liège. This processing technique is well suited to the spoils originating from the large steel working areas characterised by complex pollutions and high heavy metal concentrations.
This depollution unit has a processing capacity of 70 tonnes per hour and operates on the wet soil treatment principle, which makes it possible to reduce the pollutant contents significantly, including heavy metals, hydrocarbons, PAH, BTEX, etc.
The Envisan processing centre has been operational since 2014 on a 3.5 ha port concession in the fluvial port of the Ile Monsin, one of the 33 port areas managed by the Autonomous Port of Liège.