An offshore wind contractor has once again plumped for a clever gangway which speeds up transfer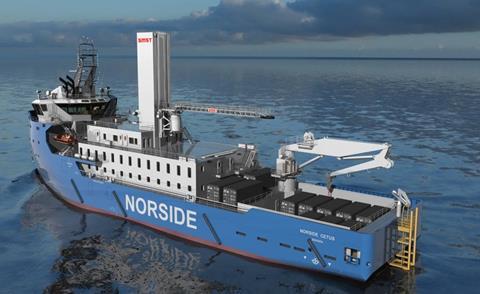 Norside Wind AS has awarded SMST a contract for the delivery of a motion compensated gangway combined with an access and cargo tower for the conversion of a former platform supply vessel it has recently acquired.
The contract is a continuation of the cooperation between the two parties that was sealed last year with the first contract for supplying a similar set of walk-to-work equipment for the freshly converted Norside Supporter.
"We returned to SMST for a second set of their equipment. We believe that their walk-to-work solution complements the PX121 design and increases the performance level of the vessel's operations and above all, guarantees safe transfer of crew and cargo," said Hans Martin Gravdal, CEO at Norside Wind AS.
Better performance
Norside has recently taken ownership of the Farland, which is a vessel of Ulstein's PX121 design. The former PSV will be converted into a walk-to-work vessel for the offshore wind industry and will operate under the name Norside Cetus.
The delivery of the gangway, the SMST Telescopic Access Bridge L-Series (TAB-L), with Access & Cargo Tower, is planned for the third quarter of 2022.
The equipment incorporates important features that ensure deployability in all current and future offshore wind parks. Besides using the gangway for walk-to-work operations, it has also a crane functionality for transferring cargo up to 3t.
"The TAB-L with automation packages and electrical height adjustment system that operates on both sides of the vessel is definitely futureproof," said Jelle Dijk, sales manager at SMST.
"We are very pleased with the trust of Norside and we are confident that with our equipment we can offer them high performance and many safe transfers."