Specialist international aluminium shipbuilder Strategic Marine (S) Pte Ltd has won a newbuild contract for two Fast Crew Boats (FCB) from Centus Marine (CMSB).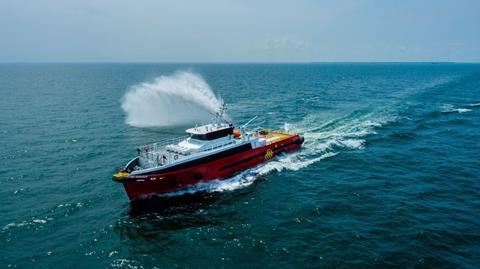 The two offshore support vessels will be the fifth and sixth FCBs ordered from the Singapore-based shipyard in the past two years.
"We are pleased to secure yet another newbuild contract from our repeat customer, Centus Marine. This is a testimony to the trust and confidence Centus Marine has in our vessel design, delivery and service," said Wayne Poh, general manager, commercial, Strategic Marine.
Design improvements
The 42-metre long FCBs will feature design and technical enhancements when compared to previous vessels. The robust hull engineering ensures vessel performance and efficacy, as well as stability in tough marine environments and challenging offshore conditions.
Each vessel will also be powered by three Cummins KTA50 engines, with expected cruising speeds of around 30 knots.
Safety and comfort are the top priorities in the design of these vessels. Each vessel can transport 100 personnel in business class recliner seats and is fitted with dedicated luggage racks in the main deck lounge. Accommodation for crew includes 12 berths in seven cabins.
With regards to the safety aspect, each vessel offers bow boarding, an enlarged wheelhouse and a large deck storage area with wide walkways to ensure safe and efficient crew transfer.
CMSB provides offshore support vessels, which include supply vessels, anchor handling tugs, fast crew boats and other various types of vessels for marine offshore clients.
Centus Marine said: "We are pleased to confirm our latest 42m Crew Boat orders with Strategic Marine. These boats are tailored to our specific offshore operating conditions and thanks to Strategic Marine's policy of continuous improvement, we've been able to influence vessel design by incorporating clients' feedback which has proved really valuable, helping keep us at the forefront of this competitive market."
The vessels are scheduled for delivery in early 2023 and are expected to work in Southeast Asian waters.