The Tonga volcanic eruption in January was one of the largest subsea eruptions ever known - yet little seems to have changed.
Scientists analysing data from the undersea Tonga volcano Hunga Ha-apai (HT-HH) that erupted in January have revealed unexpected results after a month-long sea-mapping expedition.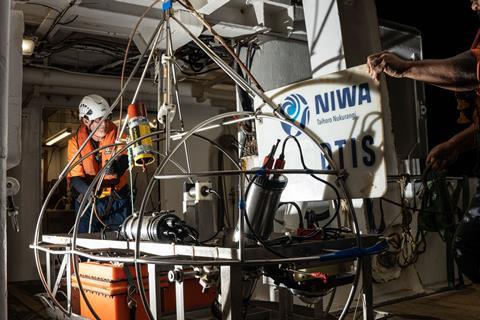 The scientists, from New Zealand's National Institute for Water and Atmospheric Research (NIWA), employed research vessel RV Tangaroa for a month to map the seabed as part of the Nippon Foundation-funded Tonga Eruption Seabed Mapping Project.
UK firm Sea-Kit has provided its Unmanned Surface Vessel Maxlimer to collect data from inside the caldera in the second phase of the project.
The explosion was so powerful that umbrella clouds from its plume reached 31km, and after a two-week eruption, the islands of Hunga Tonga and Hunga Ha'apai were reduced in size.
Because of the force of the eruption, the researchers expected to see major changes in the geological structure of the volcano – but in fact very little had changed, they report, although the seabed surrounding it had been dramatically altered.
"With an explosion that violent – the biggest ever recorded – you would expect that the whole volcano would have been obliterated, but it wasn't," said NIWA geologist Kevin Mackay. "While the volcano appeared intact, the seafloor showed some dramatic effects from the eruption. There is fine sandy mud and deep ash ripples as far as 50 kilometres away from the volcano, with gouged valleys and huge piles of sediment."
Scientists are also optimistic about the ecosystem in the region.
"Although the seafloor on the volcano is largely barren, surrounding seamounts have pockets of normal biodiversity, such as corals, sponges, starfish, and mussels, indicating the resilience of such marine ecosystems and giving some hope for recovery," they said. "More work needs to be done before we can be confident of how the ecosystem will respond, but these surviving animal communities indicate what kind of life may repopulate HT-HH. The sites sampled during the voyage give us a baseline for monitoring recovery in the future."