An offshore charging buoy for wind farms initially aimed at crew transfer vessels will undergo sea trials early next year.
The Oasis Power Buoy is the brainchild of Oasis Marine Power, a subsidiary of marine engineering firm Jebb Smith, which is based in Scotland.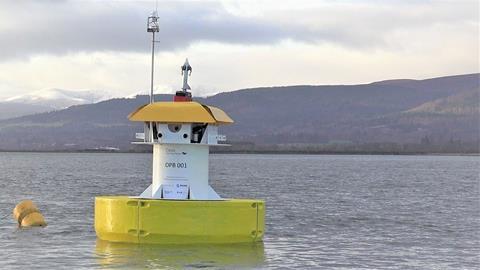 The buoy, which is connected by cable to one of the turbines as its power source, can be situated as near to or as far from the wind farm as operators choose.
Once moored to the buoy, a vessel can be switched off and allow the crew rest time without them having to manually maintain the vessel's position.
"What's unique about our system is that it's separate from the turbine, the power source is the wind turbine and it comes to the buoy through a cable," said Laura McMillan, PR and marketing co-ordinator with Oasis Marine Power. "So the mooring buoy acts as a mooring station as well as a charging point – the vessel doesn't have to be physically attached to the wind farm.
"Crew transfer vessels spend an average of 80% of their time in field loitering, but with this system they can be moored and switched off, saving fuel. There are a lot of different solutions being looked at in reducing fuel consumption, like hydro planing, or near-shore wind farms, and this is another one."
Vessels will have to be installed with the charging infrastructure on the deck head along with the mooring line.
The solution creates a lot of different avenues for charging offshore, and the first trial for CTVs in field will be carried out early next year.
This year a different offshore charging solution for CTVs was launched by MJR Propulsion, also an Innovations Showcase winner at Seawork.
MJR's technology provides a connection to the vessel for recharging directly on a turbine.
Supporting documents
Click link to download and view these files
Image, FileSizeText 8.19 mb