Interest in autonomous and remotely controlled ships is burgeoning with one safety expert at its vanguard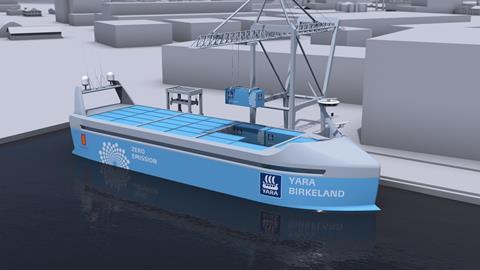 Integral to the success of unmanned ships in the future will be the link between the vessel's control system and its safety system, says the survival technology expert, Survitec.
This will be one aspect under scrutiny when the first unmammed vessel Yara Birkeland goes into operation on the Herøya-Brevik route in Norway in early 2022.
"The link between the vessel's control system is crucial, becoming even more so on these unmanned systems. The systems need to talk together," Finn Lende-Harung, commercial director fire solutions, Survitec, told RINA.
Autononomy milestone
The 3,200dwt ship's maiden commercial operation this year will mark the start of a two year technology test phase as the vessel aims to become certified as an autonomous, fully electric container vessel.
Onboard Yara Birkeland for its first laden voyage will be a unique, automatic and remotely operated firefighting system designed and commissioned by Survitec.
The system will be monitored by crew from a virtual bridge and machinery control room ashore.
Survitec's scope of supply included a Novenco XFlow water mist system for the vessel's eight separate battery rooms; an Inergen fire extinguishing system for the switchboard rooms, pumps rooms, control rooms and electrical spaces and a Novenco XFlow water spray system for the cargo holds, open decks, superstructure and other compartments.
A different approach was required for a fire system onboard a crewless ship. The system had to be redesigned for automatic activation based on the signals received from heat and flame sensors and CCTV cameras located all around the vessel. It also had to be able to send signals to seawater pumps, gas cylinders and valves, providing alerts to operators shoreside.
Survitec is currently designing a similar firefighting system for a pair of fully autonomous ferries under construction at a shipyard in India.