Port terminal operator BERA has been rebranded to EFG Port Papenburg following its complete integration into the EMS-Fehn-Group.
The company, primarily known for its storage and handling facilities, will now offer additional services in response to an increase in demand for logistics services.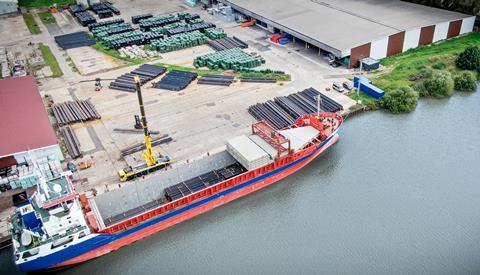 "We offer our customers all services from one single source," said EMS-Fehn-Group's chief executive, Manfred Müller. "Precisely because we have our own terminals, vessels, cranes and trucks and the expertise that comes along with operating them, we are able to quickly supply tailor-made solutions," he added.
The multimodal EFG Port Papenburg terminal plays an important role as interface between sea and land transports. With an area of around 160,000 square metres, about a third of which is warehouses, the port is able to handle peat, wood, steel and alternative fuels using its berth which allows the simultaneous mooring of two seagoing vessels.
"We constantly invest in order to always stay up-to-date," said managing director, Holger Wedemann. Despite the Covid-19 pandemic, demand for services has remained high. "We are in a perfect position to win new customers and to draw further port handling activities to Papenburg," said Holger Wedemann.
One example of this new closer cooperation is Lübeck-based EFG Heavy Haulage's recent move alongside colleagues in Papenburg. "This will enable us to react even faster and more flexibly to our clients' requirements," said Holger Wedemann.