Anyone with a background or interest in sailing will know about lead-filled keel bulbs for ballast, but Danish pioneers have now launched an air filled bulb stabiliser for CTVs.
The Airkeel from Seawork 2022 exhibitor Dacoma is a patented, air-filled appendage mounted to the bottom of a vessel hull. It swings in an inverse-pendulum motion from side to side, actively counteracting roll motions. Dacoma claims it will work for catamaran CTVs to 'dramatically reduce vessel motions', and it also claims it improves fuel efficiency.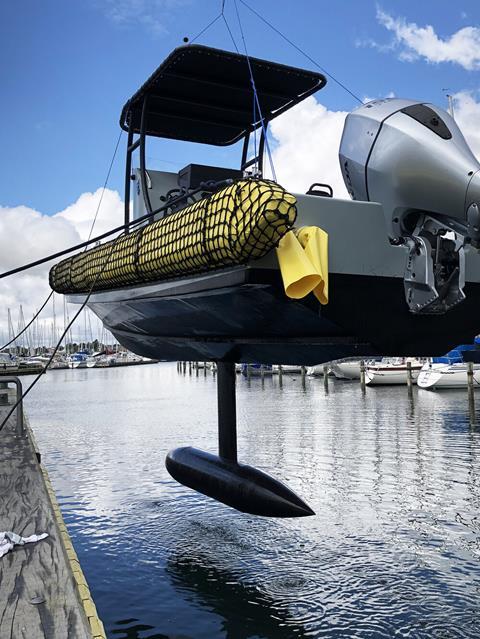 The Airkeel stabilizer is available for monohull and multihull vessels. For catamarans, two Airkeels are installed, one on each demi-hull, and are operated in tandem mode.
In shallow water or when approaching port, the vessel draft can be minimised by moving the Airkeel to a locked position on one side on a monohull or in between the two hulls on a catamaran.
Machine learning
The swinging motion is optimised by using adaptive control based on machine learning and artificial intelligence. Intelligent stabilisation ensures the best use of Airkeel in all situations, says Dacoma, both in adverse weather and under varying load conditions.
Installation, operation and maintenance of offshore wind farms requires specially trained technicians on-site. Crew transfer operators offer transfer of technical personnel to the wind farms as a service. The operators use high speed Crew Transfer Vessels that are usually specifically designed for this task and they usually carry 12-24 industrial personnel.
Depending on the distance from the shore to their location, wind farms are often exposed to strong winds and high waves. In the North Sea and the Baltic Sea, wind turbines are inaccessible for CTVs for between 100 to 160 days each year, due to the adverse weather conditions.
In the remaining time, motion sickness often leads to loss of industrial staff productivity, resulting in further costs and eventually project delays. This loss is estimated to be at around € 00 - €450 million/year on the global offshore wind industry scale.
Reduced motions
With the Airkeel stabiliser, roll and heave motions of CTVs are claimed to be drastically reduced, which means that vessels with this equipment can potentially operate at 0.5m higher significant wave height. If this is the case, then it could bring an additional 40 days of operations in the weather window, where CTVs would otherwise be forced to stay in harbour.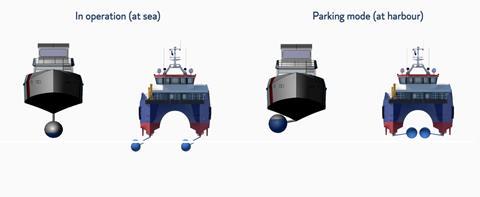 In addition, crew comfort and safety are increased while motion sickness is reduced, which Dacoma's figures say adds another 100 days of technical staff productivity.
The Airkeel stabiliser can be delivered within 3-6 months as a factory tested, turn-key system. It can be easily integrated by any experienced shipyard, says Dacoma. Installation takes 1-2 weeks, both for refitted or new build vessels.
Since most of a CTV's time is spent operating at semi planing speeds between the shore and the wind farm, the company claims that about 5-10% of fuel consumption and hence CO2 emissions are saved due to the reduced total ship resistance caused by the use of Airkeel.
It is not clear from Dacoma's literature whether this claimed total ship resistance reduction comes from the reduction in motions (less slamming, acceleration and deceleration of hulls) or some kind of limited SWATH effect provided by the buoyancy of the bulbs.
SWATH (Small Waterplane Area Twin Hull) vessels obtain their buoyancy from torpedo-like hulls which operate submerged, and the vessel is mounted above them on thin, hydrodynamic pylons. Much of the (low drag) benefit comes from the fact that a completely submerged torpedo shape has very little wavemaking drag. This is part of the reason why submarines can go faster submerged than on the surface.
Airkeel is not SWATH, but we wonder if the buoyancy provided by the Airkeel provides a little lift of the catamaran hulls, reducing the vessel's overall drag by carrying some of the buoyancy in a more hydrodynamically advantageous place.
Ask them yourself by visiting Dacoma at Seawork International 2022 on stand E163.