Netherlands-based Fleet Cleaner has added a new vessel to its fleet just as its remote control centre begins operating.
Thunderbird 3 is the company's third hull inspection and cleaning vessel, which uses a hydraulically powered ROV loaded with waterjets to clean hulls as vessels are being loaded or unloaded, thus saving down time for the vessel.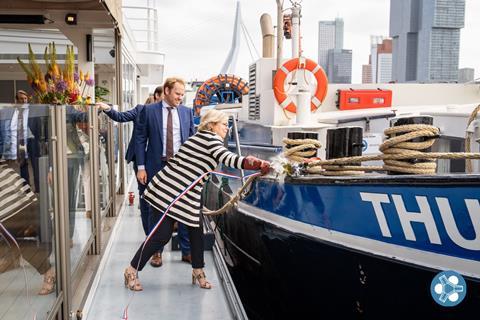 The ROV is attached to the vessel with magnets and is umbilically connected to the mothership, in this case Thunderbird 3, through which filtered seawater is pumped for use as a pressurised cleaning liquid.
Pressure can be adjusted according to type of biofouling and hull coating, and the ROV's flexible cleaning heads mean nearly all areas of the hull can be reached. It also has lights, sensors and cameras.
Fleet Cleaner developed its hull inspection and cleaning technology in 2016, and has just opened a control centre in Delft, which means operators can work from shore to control the ROV instead of having to be on board the vessel. It means the number of crew on vessels can be reduced.
Thunderbird 3 was christened in Antwerp by Marianna Mastellone, new building project manager at MSC Sorrento, a ship management arm of the MSC Mediterranean Shipping Company.
"MSC was one of the first companies giving us the opportunity to prove our technology," said Cornelis de Vet, co-founder and COO of Fleet Cleaner. "It's an honour to have them christen our new vessel and also have them as a valued customer, along with our other customers and stakeholders who are working to improve the sustainability of the industry and oceans."