US-based Aquantis has booked a berth at EMEC to test its latest generation tidal energy product.
Tidal energy developer Aquantis's Tidal Power Tug will be tested at the European Marine Energy Centre (EMEC) Orkney, Scotland in a six-month programme next year, the California-based developer said.
Aquantis turbines are stable spar buoy vessels moored to anchors on the seabed, which gives resilience to the structure in rougher conditions.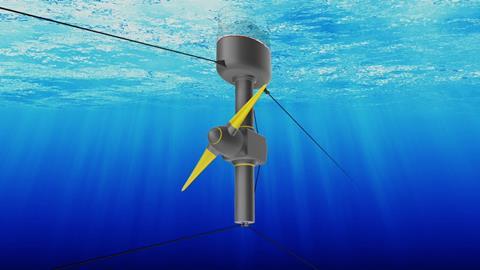 its latest model, the Tidal Power Tug, is a second-generation floating tidal energy converter which supports a 10m diameter, two-bladed variable-pitch rotor and 160kW drivetrain.
The testing will generate performance data so that Aquantis can validate its loading and dynamics model, controller functionality and load mitigation techniques.
Aquantis says the testing is being carried out as the company prepares to deploy its technology into the UK market. The testing, at the Shapinsay Sound test site, will be the first time the Power Tug has been tested in open water.
"EMEC will support Aquantis' testing with tidal resource monitoring and the provision of its Test Support Buoy enabling remote communications with the device, data relay via EMEC's supervisory control and data acquisition (SCADA) system and safe dissipation of power generated on site," says EMEC.
The organisation will also provide project management, operations, consenting, monitoring and performance testing.