Peter Barker gives a brief round-up of the latest towing news.
Fairplay Towage has celebrated a quarter of a century operating shiphandling tugs in the port of Rotterdam.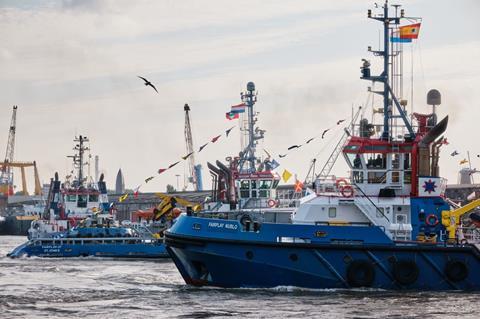 A 25th birthday party was held recently at the Stadshaven Brouwerij in Rotterdam's Merwehaven, where guests were welcomed by Fairplay's Rotterdam manager, Mr Set van den Bout, with speeches from Mr Richard Borchard and former managing director Jörg Mainzer and a 'tug ballet' staged by members of Fairplay's Rotterdam-based fleet. The Hamburg-based towage service provider's presence in Europe's largest port has gradually increased in recent years, with currently around a dozen shiphandling tugs operating in Rotterdam.
Saam Towage Brazil has concluded the purchase of 21 tugs from Brazilian company Starnav.
Saam provides port, logistics and towage services in the Americas and Starnav's assets, valued at US$198 million, includes 19 tugs currently in operation and two additional vessels in the final phase of construction. Saam describes the deal as "one of the largest transactions in Saam's history and part of our strategy to continue advancing our leadership in the towage industry". The new additions will see Saam operating 69 tugs in 19 Brazilian ports, completing 140,000 towing operations for 40,000 vessels each year.
Svitzer has won the Innovation of the Year award at Riviera Maritime's recent Tugtechnology '23 conference in Rotterdam.
The award was in recognition of Svitzer's TRAnsverse tug, a next-generation multipurpose tug design that is being developed in conjunction with naval architect Robert Allan and features an omnidirectional hull form and inline propulsion systems. The design will have escort capabilities and provide "safe, swift and seamless" transition between direct and indirect towing modes.
Another well-deserved award at Tugtechnology '23 saw Ton Kooren, founder of Kotug and inventor of the Rotortug, honoured with the ITS Lifetime Achievement Award.
At 86, Ton Kooren is the third generation of the Kooren family in the towage business and renowned for bringing innovation to the international tug world. 'Tugnology' is how Kooren describes his inventions and reacting to the award said: "I am deeply humbled and honoured to receive the Lifetime Achievement Award.
"To everyone who has been a part of my journey, thank you for your unwavering support and belief in my vision. This award is as much yours as it is mine. I encourage the next generation of Kotuggers to continue to forge ahead and pushing boundaries, in a sustainable way."