Snippets on what's been happening in the towing world in recent days.
Boluda Towage has provided berthing assistance for a ship loaded with container cranes destined for Antwerp.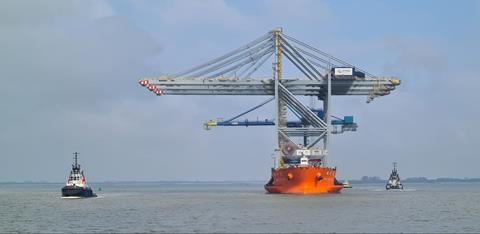 DP World's Antwerp Gateway container terminal recently took delivery of three new container cranes, transported to Antwerp from China on board the heavylift cargo vessel Zhen Hua 35. Navigation of the ship and its outsized cargo required precise manoeuvring along the winding approaches to Antwerp and Boluda's tugs VB Pearl and Union Ruby convoyed the vessel from Flushing to Antwerp where they were joined by VB Kiwi and VB Amber, whereafter the four powerful tugs safely moored Zhen Hua 35 at DP World's terminal at Deurganckdok.
PSA Marine Americas (Pte) has completed its acquisition of 45% stake in Meyer's Tugs SA (MTSA) in Panama from Inversiones Maritimas CPT, a wholly-owned subsidiary of CPT Empresas Maritimas.
Panama-based MTSA was incorporated in 2015 and provides towage services between the Pacific and Atlantic coasts in Panama with six tugs between 60tbp and 77tbp. PSA Marine, based in Singapore, is now a major global player in the towage business with a presence across Asia, Middle East, Europe and Latin America. With completion of the acquisition, MTSA will be rebranded for a common identity with existing general and key managers continuing to lead and run the company.
Trondheim Norway-based BOA has been awarded a major contract by TM Edison, a JV between Jan de Nul and DEME, for the launching of 23 concrete caissons for Princess Elisabeth Island, the world's first energy island in the Belgian section of the North Sea.
For launching the caissons, which weigh up to 22,400t, BOA will deploy its 140m long semi-submersible barge Boa Barge 33, modified to manage load-outs of extreme weights over the stern. The barge can submerge with up to 21.5m of water above deck which has a free deck area of 5,800m2. The operation will commence in spring 2024 and BOA's work includes project engineering and operational management.
London-based maritime and commercial solicitors Tatham & Co has appointed solicitor and master mariner Paul Haworth as a senior member of its legal team.
Mr Haworth will join Tatham's "wet" team focusing on Admiralty and crises response cases and together with another recent appointment, Chris Farmer brings the number of master mariner-qualified solicitors at the company to four. Mr Haworth's previous high profile casualty incidents include Rena, Hoegh Osaka, CCNI Arauco, Maersk Honam and Ever Given.