Our regular contributor Peter Barker on latest news from Boskalis, Ambipar Response, Svitzer, Caterpillar and the International Salvage Union.
Boskalis has reported its 2022 annual results, recording a sharp increase in profits and strong increase in revenue.
While the size of the Boskalis ship-handling towage portfolio has diminished in recent years, its towing activities in the offshore energy sector remain strong, revenue in this sector increasing by 14% on a 33% higher EBITDA. All but subsea cable activity in this sector had a 'very strong year' and while it reported a quiet year with its salvage activity a substantial wreck removal project was acquired late in 2022 for execution in 2023 and 2024. Boskalis is also assisting the United Nations with a salvage project in the Red Sea, to be described in detail in a subsequent edition of MJ.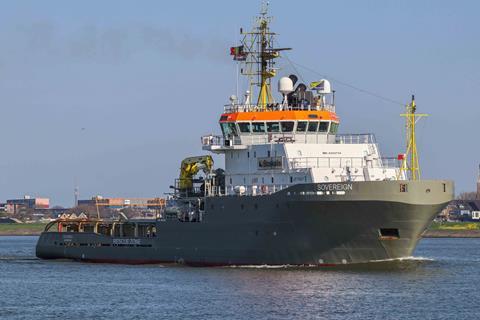 Boskalis operates a large fleet of seagoing tugs under its offshore energy and tranport banners
Ambipar Response, the UK Maritime and Coastguard Agency's oil spill response contractor, provided marine environmental response following a subsea release of heavy fuel oil off England's south east coast.
Response equipment from three of its national stockpiles was mobilised along with personnel for the seven-week operation. Two single vessel recovery systems were deployed with 'very little impact to sensitive shoreline receptors' reported. Specialist salvage assistance, diving services and vessels were also provided by response partners including Resolve Marine, SeaTech Diving and Braemar Offshore.
Svitzer and Caterpillar Marine have signed an MoU supporting the former's decarbonisation strategy, addressing methanol as a fuel in newbuildings and conversion of existing tugs.
Conversion of Svitzer's existing Caterpillar-powered tugs covers the majority of its fleet, described as the 'next evolution of their journey' stretching back several decades including initiatives such as the adoption of biofuels with Svitzer's EcoTow product. The news follows the recent announcement of the Caterpillar 3500-E series methanol-readiness development.
The recent International Salvage Union (ISU) associate members' day conference included launch of guidelines for the role of the Special Casualty Representative (SCR).
ISU has been working with the SCOPIC Committee to create the consolidated guidelines and follows a series of SCR Digests, developed as experience of SCOPIC was gained. The guidelines emphasise the independence of the SCR, appointed to support the operation on behalf of all salved interests, the role to advise rather than to assist the salvage master. The possibility of an SCR's assistance is also introduced. Details within the guidelines clearly illustrate the mutual benefits of a close relationship between all involved in achieving a satisfactory outcome for everyone.