Latest news from Alfons Håkans, International Salvage Union, Boluda Towage, Royal Wagenborg.
Turku-based towing contractor Alfons Håkans has taken part in a pollution prevention exercise with the Finnish Border Guard.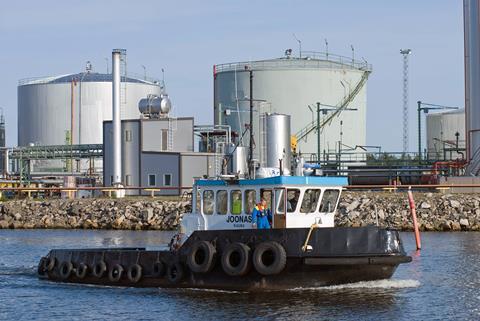 The exercise, off Airisto close to Turku, involved the Border Guard's patrol ship Uisko along with Håkans tugs Joonas and Wizard practicing oil spill collection using the seine technique. Uisko's crew experienced loading offshore booms and other equipment and lowering the booms and shaping the seine. Following the exercise, Uisko's master Lieutenant Commander IIkka Sahla commented that all the set goals were reached in the exercise.
At the recent AGM of the International Salvage Union (ISU) in Rotterdam, Carlos L Paz was welcomed to his first committee meeting as a new Executive Committee member.
Mr Paz is CEO, Chairman and Technical Director of Argentinean ISU member Raul Negro & CIA S.A., and brings 40 years of experience involving more than 100 salvage operations in Argentina, Uruguay and Paraguay to the ISU. The meeting was also the last to be attended by Li Jianping of China Rescue & Salvage Company, who has resigned from the committee ahead of his retirement in 2023. ISU President Captain Nicholas Sloane thanked Li for his long service on the committee and contribution to the ISU.
Two of Boluda Towage's Rotterdam-based tugs, VB Ginger and VB Ebro, have assisted in the departure of two ship-to-shore transfer cranes to operate in the port of Santander.
Boluda is of course known for its global towage activities as one of the world's largest tug operators. Its parent company, Boluda Corporacíón Maritima, also has a shipping division that includes managing seven maritime terminals along the Spanish coast. The cranes will operate at Boluda Marine Terminals Santander, which will be the first container terminal serving the Cantabrian port and see an expected "increase in traffic of more than one million tonnes".
The Netherlands Royal Wagenborg's offshore and towage division has been busy mooring two LNG FSRUs in the Groningen province port of Eemshaven.
The FSRU Golar Igloo was assisted by Wagenborg's ASD tugs including Waterlines, Waterstraat and Waterstroom followed later by a second FSRU Eemshaven LNG. Wagenborg also provided agency services for the operation. The new LNG terminal, called EemsEnergy Terminal, is described as being intended to increase the security of supply and become less dependent on Russian gas.