A round-up of the latest news in the towing and salvage sector.
Co. Donegal-based Foyle Marine Dredging Ltd has boosted its fleet with acquisition of the Damen Shoalbuster 2208 Afon Lligwy from Holyhead Towing Ltd.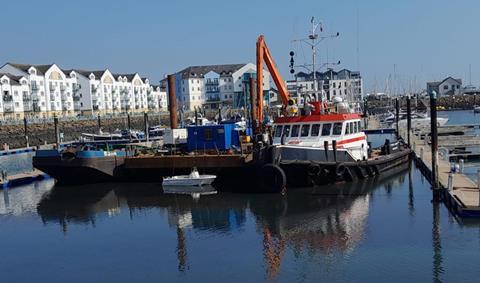 Foyle Marine had chartered the vessel from Holyhead Towing for six months for a civil engineering project in the Irish Sea and the vessel boasts an impressive pedigree, built in 2002 as Herman for van Doodewaard JL (NL) before passing into ownership of Holyhead Towing in 2006.
The new owner reports it was "absolutely pleased" with its performance during the charter, citing its multipurpose proven design and quality making it suitable for various operations.
Interest in salvage from BBC
It is often noted the industry does not get the publicity it deserves with the general public in averting maritime disasters and protecting the environment, because what little knowledge they do have may be negative reflecting a very different past era. Following a substantial feature on its website the international broadcaster BBC is now planning a new series and seeking to speak to ISU members and others willing to participate, including where possible, filming on current jobs.
Boluda's tug VB Guanche has taken part in the Canary Islands' quarterly exercise for the prevention and control of oil spills.
The exercises are carried out in different ports of the Canaries: Las Palmas, Lanzarote, Tenerife and Fuerteventura. This particular exercise took place off Lanzarote and was part of European Maritime Safety Agency's project aiming to reduce the risk of maritime accidents and deal with marine pollution.
The world of towing is mourning the loss of Captain Brian A. McAllister, Chairman Emeritus of McAllister Towing, who has passed away aged 89.
Captain McAllister served in the US Navy during the Korean War and was a member of the fourth generation of the family business founded in 1864. He kept the company running during highs and lows, including commanding vessels and piloting ship operations in US ports.
He subsequently became the first sole owner of McAllister Towing and later in his career discovered the beauty and importance of maritime history, including involvement in industry books and serving on the boards of numerous related museums and historical societies.
He received many awards and honours, including in 2015 an induction to the International Maritime Hall of Fame.