This month's look at the health of the tug building market examines deliveries and orders covering nine vessels from two of Europe's most prolific shipyards, which feature regularly in this column.
A delivery that warrants a more in-depth examination concerns Turkish shipbuilder Med Marine's completion of a powerful and significant tug for Kenya Port Authority. More than a very able shiphandling tug, however, Mwokozi II has a notable salvage capability and is designed to operate in East Africa and the Indian Ocean regions, undertaking international salvage and towage operations involving very large vessels and ordered on the back of the establishment of the IMO Regional Maritime Search and Rescue Centre within Mombasa Port.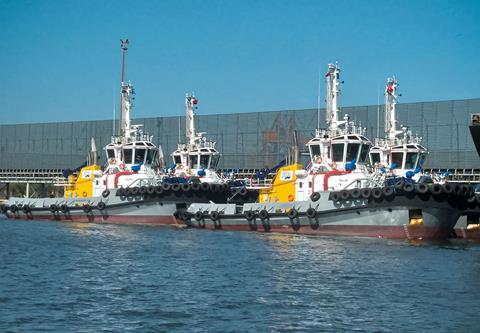 Mwokozi II is a custom-designed 42m long, 16m beam tug based on Robert Allan Ltd's RAstar 4200 design. The RINA classed tug has a bollard pull of 126t via Caterpillar C280-12 main engines, each rated at 3,700kW and powering Schottel SRP 710 FP Z-drives, Schottel also supplying a tunnel thruster forward. Caterpillar also provides two identical C9.3 gensets, each with a power output of 200ekW.
As well as the standard specification for a tug of this class Mwokozi II is equipped with powerful MacGregor winches forward and aft, the latter containing 1,000m of 64mm diameter wire rope while the forward winch features a length and tension monitoring system. MacGregor also supplied a combined hydraulic shark jaws and towing pin package, while Fire Fighting Systems provided a fifi1 off-ship firefighting system. MLC compliant accommodation reflects what can be extended periods of operation for tugs with salvage capabilities, single and double cabins provided for up to 18 persons.
Last month MJ reported on progress with Sanmar's four vessel order for Port Qasim Authority, Pakistan. All four Kocaçay class tugs, Gharo, Malir, Korangi and Pipri, have now been delivered, just one year after the order was placed.
The final delivery to report has seen Damen Shipyards complete a new class of its Multi Cat workboat, a 2309 variant for UK-based HST Marine. Known for its fleet of crew transfer vessels, Damen says the addition is the "first stage of HST's strategy to become a total solutions provider to the offshore renewables sector". Upgrades for HST Hazel are extensive, including Volvo Penta engines for "added efficiency and emissions reduction" and potential conversion to IMO Tier III standard. The bow thruster has been upgraded and crew cabins fitted with satellite television and high-speed interconnectivity. Additional upgrades include a 5t pull winch, 25t deck crane, 12t pull tugger winch and an A-frame for ploughing and cable laying.
Orders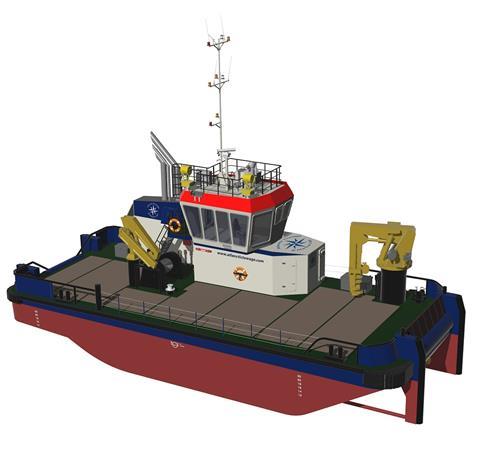 Moving on to orders and staying with Damen, an order for another Multi Cat 2309 workboat has been secured from Atlantic Towage & Marine and part of the Ireland-based marine services company's expansion plans beyond Ireland/UK into mainland Europe with a special focus on the offshore renewables sector. An upgraded AKC 185 HE4 deck crane from HS Marine has been specified forward with an AK34 HE4 model from the same supplier installed aft while Kongsberg will provide a DP1 system. The Tier II compliant vessel will include provision for retrofitting of Damen Marine's NOx reduction system using SCR technology and providing Tier III compliance. The hull and superstructure are to be built at Damen Shipyards Koźle with final outfitting carried out in the Netherlands.
The global reach of European shipyards that specialise in tugs and workboats is demonstrated with Sanmar Shipyards securing an order for the latest updated version of its popular RAmparts 2400SX tug for family-owned Mackenzie Marine and Towage Pty Ltd, based in Esperance, Western Australia. It will be powered by Caterpillar 3516C Tier III compliant main engines developing 4,200kW in total at 1,600rpm driving US255 FP thrusters and delivering 70tbp, the tug also having firefighting capabilities. The updated version of the MkII Boğaçay class Sanmar-exclusive design from Robert Allan Ltd will carry the name Boğaçay LI while under construction with delivery scheduled for Q4 2022.
Speaking about the significance of the order, Craig Bramley, Sanmar sales director, Asia Pacific said: "We at Sanmar are proud to have secured this contract with the team at Mackenzie, the Asia Pacific region is very important to us and it will be our honour to showcase this new RAmparts 2400SX along with our other deliveries in Australia this year."