This month's round-up examines four new arrivals, a forthcoming new range of methanol tugs from Turkey's Uzmar Shipyard and a new role for Damen tugs in Port of Vancouver.
Piriou Group has an impressive record when it comes to supplying tugs to towage giant Boluda France. Between 2007 and 2009 the French shipbuilder delivered eight 70tbp examples, followed by a new series of six tugs from its Vietnam facility between 2015 and 2017. Finally, a third series of six 75tbp tugs were added to Boluda's fleet by Piriou between 2019 and 2020.
Two more vessels, VB Likurai and VB Fado, have now been delivered by Piriou's Vietnam shipyard for operation in East Timor, the first Piriou-built tugs for use by Boluda somewhere other than mainland France or its overseas territories. The pair are 30m standard Piriou OST 30 designs adapted to the client's specific requirements and delivering 45 and 60 tonnes bollard pull respectively.
Commenting on the area of operation, Denis Monserand, General Manager, Boluda France said: "These two new tugs are destined for our first base in Asia, in East Timor, which is the fruit of a partnership with the Bollore Group. Through this long-term project Boluda France is taking part in the expansion of the Boluda Group in the world. We would like to thank Piriou for its support in this new adventure."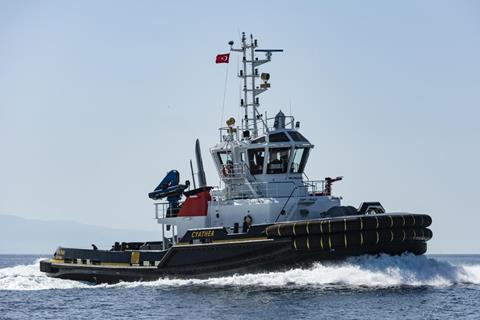 Another French tug operator, Compagnie Maritime Chambon, has also turned to a European yard with delivery of Cyathea from Turkey's Bogazici Shipyard. The RAstar 3000 escort-rated terminal support tug is powered by MTU main engines developing 3,000kW in total, powering Schottel Z-drive units delivering 55tbp and speed 12kn. The fifi (E) classed tug's deck equipment is extensive, including a Kraaijeveld escort winch forward, double-drum towing winch aft, tow pins, towing hook and deck crane. Accommodation is provided for ten persons.
Svitzer has taken delivery of its 27th tug from Turkey's Sanmar Shipyards with arrival of Svitzer Rivas for the Danish owner's Dominican Republic JV operation with Remolcadores Dominicanos. The vessel is a RAmparts 2400SX Sanmar-exclusive compact tug providing a bollard pull in excess of 80t from Caterpillar main engines (4,700kW total) powering Kongsberg US255S FP thrusters. The ABS-classed tug is intended for low-manning operation from a high standard of machinery automation with DMT providing an electrical drive double-drum towing winch forward featuring tension and length indication.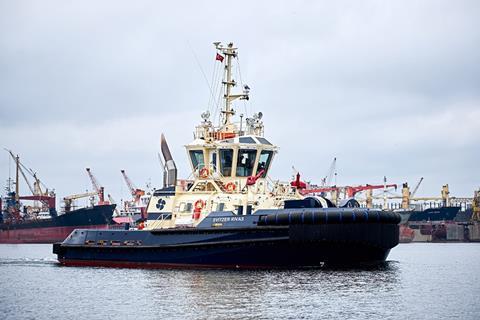 A new series of methanol-fuelled tugs is about to be launched on the market with agreement between Uzmar Shipyard and Robert Allan Ltd. Methanol is just one option for owners looking for efficient and green operations to maintain an edge in an increasingly competitive market, Uzmar saying that its clients are demanding low-emission tugs that meet CO2 reduction targets.
"According to our research that has been ongoing for more than five years, our team believes that within the alternative fuels to fossil fuels, the most applicable and efficient choice for tugboats is methanol," said Uzmar CEO Mr Ahmet Noyan Altuğ.
The new designs, exclusive to Uzmar, represent a new generation of tugs with the name of the series due to be unveiled soon by Uzmar and Robert Allan Ltd.
They will be able to generate "a significant amount of annual CO2 savings" and will have a length of between 26m and 32m and include one tractor tug design. Uzmar aims to start building the tugs in Q4 2022.
Another development with an eco-friendly theme will see two Damen ASD Tugs 2813 deployed to a new role following Canadian marine services company Ocean Group's announcement of a 10-year agreement with the Port of Vancouver to provide harbour towage services at the two Roberts Bank terminals, Deltaport and Westshore Terminals. Ocean Group is a partner in Port of Vancouver's ECHO Program (Enhancing Cetacean Habitat and Observation) with the aim of meeting the highest environmental standards in Canada, and Ocean says the Damen tugs are among the most eco-friendly operating in the Vancouver area.
Ocean has had a presence in Vancouver since March 2020, considerably increasing the number of tugs in the area. As of July it will have eight harbour tugs in the Vancouver area.