Svitzer has announced the relocation of a UK-based tug following an addition to its Milford Haven fleet along with the strengthening of its Brazilian fleet with an order for two ASD tugs.
Changing demands including expected growth on the rivers Thames and Medway have resulted in the redeployment of a tug from Milford Haven where a former Svitzer vessel has returned to the fold.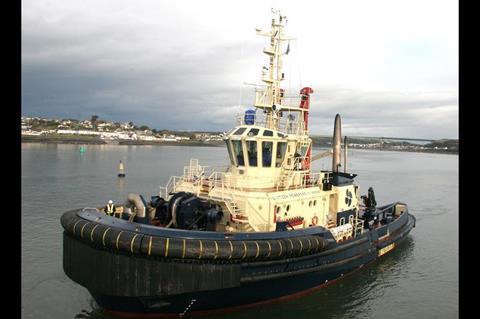 Svitzer's diverse fleet make-up provides the flexibility to deploy suitable tugs depending on demand, and this move was facilitated by the arrival of the Svitzer Pembroke to support terminal operations at Milford Haven. Originally built in Spain for Svitzer in 2010, it was sold in 2014 since when it operated under the name Boa Odin. The powerful 100tbp tug has both aft winch and fire-fighting provision, making it "uniquely suited" to support Svitzer's terminal activities at Milford Haven, including strengthening its emergency response capabilities.
The move has allowed the Svitzer Ramsey to be deployed to the Thames and Medway, where escort tugs with bollard pulls from 80t upwards along with fire-fighting capabilities are becoming increasingly important for serving customers effectively.
Kasper Karlsen, Chief Operating Officer, Svitzer Europe and interim head of Svitzer in the UK, said: "With the purchase of Svitzer Pembroke, we simultaneously accomplish two key goals. Increasing our minimum 80 tonnes bollard pull fleet in London from six to seven tugs allows us to better meet current and future customer demands there. At the same time, we are able to strengthen our ability to provide emergency services and towing at Milford Haven. We are very pleased to once again have Svitzer Pembroke in our fleet."
Separately, Svitzer's Brazil operations are to be enhanced following the ordering of two new Robert Allan RAmparts 2300 ASD tugs. Svitzer's Brazilian operations were expanded in 2021 to include towage provision at Suape and Pecem as part of its growth ambitions in the country and the ordering of four new tugs from Brazil's Rio Maguari shipyard. The newbuild programme has been expanded further now with these two additional 70tbp tugs, which are due for delivery in 2024.
As with the previous news, the inclusion of external fire-fighting capabilities are included in the order specification, Svitzer Brazil saying: "… which we know is highly requested by both our customers and port authorities."