British researchers have been given a grant to accelerate ammonia use for marine decarbonisation.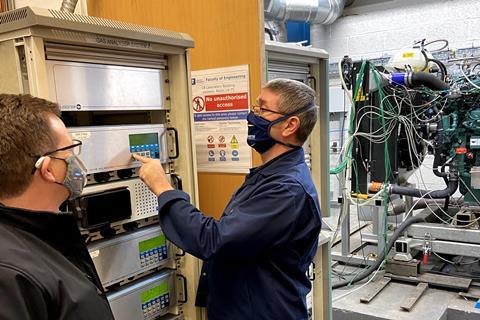 The £5.5 million (€6.4 million) granted by the Engineering and Physical Sciences Research Council (EPSRC) aims to accelerate understanding, technologies and policies relating to ammonia as a sustainable fuel.
"Roughly 80% of the emissions from the maritime sector are emitted by larger commercial vessels, where alternative solutions such as electric and fuel cell remain limited in energy density and/or cost. This challenge is compounded by the fact that the engines in these vessels typically remain in service for several decades.
"Ammonia represents an attractive solution, but significant challenges remain around slow combustion and the emissions of NOx, and it is these challenges we wish to address through research in fast burning and ultra-low NOx combustion systems," said lead investigator, Professor Alasdair Cairns, Chair in Propulsion Systems at the Faculty of Engineering, University of Nottingham.
Collaborative project
Entitled 'Decarbonised Clean Marine: Green Ammonia Thermal Propulsion (MariNH3)', the project brings together academics from Nottingham, Birmingham, Brighton, Cardiff and STFC, as well as partners such as regulators, oil companies, engine manufacturers and other industrial organisations.
"As a group, the MariNH3 consortium firmly believes that a mix of technologies will be required for the most effective decarbonisation of the marine sector because there is no 'silver bullet' fuel or technology to shortcut the path to Net Zero," said Professor Cairns.
He pointed out that there is current concern with the approach being adopted by some marine engine manufacturers, which involves ammonia dual fuelling, with ammonia used as a retrofit solution. Typically, up to 40% diesel is still used in these engines, which will have consequences for local pollution and limit the scope for decarbonisation.
"The MariNH3 framework is based around a 'technology agnostic' approach to life cycle analysis to ensure that ammonia end-use is implemented appropriately. We wish to achieve this while developing the next generation of propulsion researchers, capable of adopting a technological and systems engineering approach to help steer and maintain the strong powertrain research community that we have in the UK," he added.
The project's practical research is being conducted at the University of Nottingham's Powertrain Research Centre in the Faculty of Engineering. This facility includes a broad range of resources for engine research, but the most relevant for this project are a new Volvo marine specification compression ignition diesel engine, a jet ignition engine and a comprehensive suite of Signal Group exhaust gas analysers.
Because combustion characteristics of ammonia differ greatly from conventional fuels, the researchers are looking at ways to refine the technology whilst maximising the efficiency with which energy is utilised, minimising potentially harmful NOx emissions.
The project began in June 2022 and will run for five years.