Oxford UK-based HR Wallingford's tug simulators are being used by Dutch towage contractor Kotug to run its Mates-to-Masters training programme in Australia.
The principles may be similar but the power, technology and method of operation with modern shiphandling tugs, particularly with tethered escort towage operations, are a far cry from when a tug master's skills were passed down from one generation to the next and training was carried out in real time during actual shiphandling operations.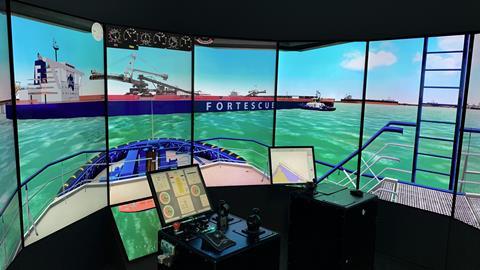 Advances in technology now allow training of potential masters to be carried out in simulators ashore, where manoeuvres can be practised realistically time and time again, including experiencing the consequences of extreme situations but in a safe environment.
One such high-profile Kotug operation involves the fleet of nine Rotortugs at Port of Hedland, Western Australia, following Rotterdam-based Kotug's acquisition of full operational management of Pilbara Marine's towage operation at the port in 2021.
ART 85-32W Rotortugs are employed at Port Hedland, the world's largest bulk export port, requiring specialist tugs and crews to be trained to meet the demands. As part of their ongoing development, Kotug trains existing mates to progress to masters on the vessels and the first simulation-based training courses were run at HR Wallingford's Australia Ship Simulation Centre in Fremantle, Western Australia.
The trainees spent the first eight days of the course familiarising themselves with the handling of the tug manoeuvring model, created by HR Wallingford's naval architects and verified by Kotug's training masters.
The training allowed the mates to develop tug handling skills from performing basic open water manoeuvres to escort towage and assisting with complex ship movements within the port, including experiencing ship-to-tug interaction as well as tug wash in practical simulation exercises. Following the simulation element, ten weeks of on-the-water training follows under supervision of Kotug's training masters, where the simulator-based exercises are repeated along with ongoing competency assessments utilising Kotug's training app.
Ben Spalding, HR Wallingford's Australia Ship Simulation Centre manager, said: "We have a long relationship with Kotug at our UK Ship Simulation Centre as well as through Shell Australia's Prelude FLNG operation. It has been fantastic to build on this through the new training course, having previously established ourselves as one of the leading ship and tug navigation training simulation centres in Australia."