To provide for tomorrow's needs in offshore windfarm installation, Ulstein has expanded its portfolio with the ULSTEIN HX122 design.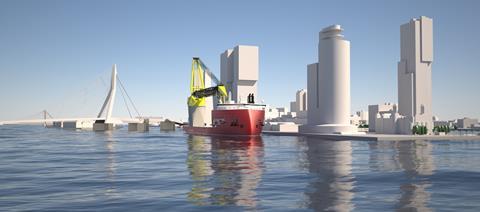 The design features an ULSTEIN X-BOW and an ultra-high-capacity crane, enabling operators and contractors to efficiently transport and install monopiles or jacket foundations up to 5,000 tonnes.
"We identified and addressed that issue already some years ago. Based on extensive market studies we developed what we believe is the most efficient solution for the industry," said Nick Wessels, marketing & sales manager at Ulstein Design & Solutions BV.
Industry need
New foundation installation tonnage is quickly needed, but as stated by Clarksons Platou Securities at the 2022 Offshore Wind Journal Conference, this part of the market is "the most under-ordered segment in offshore wind."
This jeopardises the offshore wind farm realisations. Ulstein said its proven, off-the-shelf heavy lift vessel design can help to close the foundation installation gap.
The ULSTEIN HX122 builds on the HX118 design which is the third evolution of the successful ULSTEIN SOC 5000 design, of which several vessels are currently in operation or under construction, including Heerema's 'Aegir' and Subsea 7's 'Seven Borealis'.
Four years in the making, this design incorporporates 'ULSTEIN Blended DesignTM' methodology, CFD simulations and knowledge gained from previous projects including the ALFA LIFT design and Aegir conversion.
Developed to efficiently handle the next generation foundations, monopiles as well as jackets, the design features a main crane with large lifting heights and a large, strong open deck. Methanol powered generators, an optimised hull design and smart integration of battery systems ensure low emissions during operations and when in port.