A UK transportable dry dock developer has been approached by the US offshore wind market to develop its unique docking equipment for a growing sector.
UK-based Tugdock, which claims to have come up with the world's first road transportable dry dock, has received a boost from across the pond in the form of a partnership with Crowley, an agent that supplies the offshore wind sector in the US.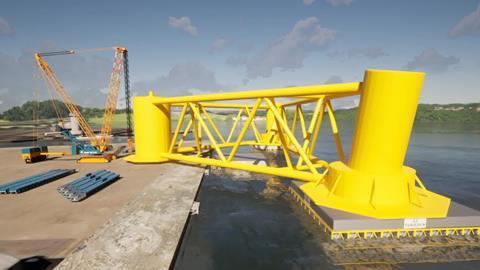 Tugdock, which is based in Cornwall, makes inflatable, modular docks that are assembled on site with a pinned steel frame, air lift bags and an air compressor.
All of this can be combined into a deck structure for additional buoyancy or as a submersible platform for lifting or launching heavy machinery, including substructures for floating offshore wind. Outrigger pontoons also provide stablility during the lifts or launches.
The docks were developed to be launched in ports that lack the sufficient water depth and assembly space required to build and load out the massive floating substructures required to support offshore wind turbines.
As the US steps up its ventures into offshore wind, European firms hope it will look to their more mature market for expertise, and Tugdock appears to be one such firm taking advantage of the growing demand. In fact in September the US government set a target to install 15GW of floating wind by 2035.
"This important investment and collaboration with Tugdock strategically complement our vision and market-leading logistics capabilities to support wind energy development from beginning to end," said Bob Karl, senior vice president and general manager, Crowley Wind Services. "Not only will we help installation developers solve logistics challenges, as a leader in sustainable and innovative maritime logistics Crowley will further the use of offshore wind as a leading alternative energy source by working together with our customers, suppliers, policy makers and others across our value chain for innovations like the Tugdock Submersible Platform."
"We are delighted to form a new partnership with Crowley," said Shane Carr, CEO of Tugdock. "Their strategic investment will enable us to take our unique technology to the US floating offshore wind market for the first time. We believe that our new partnership will help accelerate the growth of floating offshore wind in the US."