A venture has been launched that the firm says represents a bold step into offshore wind.
Newport Shipping, better known for its ship repair facilities, has launched NAV Engineering and Technology.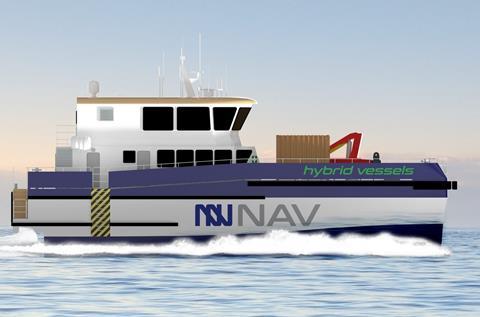 In fact the first design from NAV's drawing board – a 25.7m hybrid CTV with 4MW main engines complemented by 2MWh battery – will likely be both built and operated through industry joint ventures, said board member Linghui Xia.
The confidence for the move stems from "strong growth" in the offshore wind segment, said Xia, and added that while the UK and Northern Europe industry is already very mature, "the Asia and US market is now coming up".
This, he said, will require not just more, but different types of CTV design to take into consideration the variety of transit speeds and distance to site.
Although this first CTV design runs the generated power through an electrical distribution to four waterjets at the rear, which allows optimal loading of the engines, there is scope for alternate designs, said R&D naval architect Turgay Colak, Some of the power, for example could be moved to a drive shaft in a parallel hybrid configuration or the water jets could be swapped another propulsion system.
While there's a balance between battery installation and the hydrodynamic, fine entry bows, all this can still be tailored to suit different operations.