Port infrastructure and alternative fuels was the central focus of the commercial marine networking meeting, Get Set for Workboat 2050 at Seawork.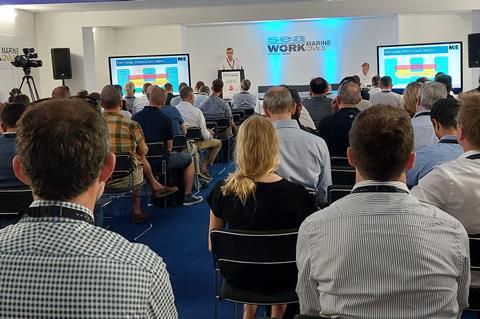 Under the watchful eye of Kerrie Forster CEO, The Workboat Association and Andy Page, managing director of Chartwell Marine, the session was a forum of discussion on how infrastructure will be paramount to moving forward with the green agenda.
"The challenge is we have a vision vs reality problem," said Captain Martin Willis, executive officer of the UKHMA.
"As well as the diversity and options available to decarbonise, we are tackling the issue of installing 21st century technology into 18th and 19th century infrastructure in the UK," he said, pointing to the issues surrounding fibre broadband roll-out.
Captain Willis said the ports that are doing well are the multi-use ones, those that serve a multitude of markets - ferries, workboats, offshore activities. The ones who are good at not just supplying their interal market, but which are reaching out to provide new services too, including alternative fuel options.
Future fuelling
Jonathan Williams, founder and CEO of MSE International has a keen interest in building the future fuel mosaic for future bunkering and support infrastructure.
Specifically, he works on the SPINE Project, which involves a consortium of nine companies headed up by MSE.
The MaRI-UK funded project is looking at ship-shore integration from an energy and autonomy perspective, bringing together elements of infrastructure, with data, automation and supporting communications.
"Our role is to fill the interface between digitalisation and decarbonisation," said Mr Williams.
"We want to navigate operators through the huge range of fuel options avaiable and prevent them investing in stranded assets in the future.
SPINE does this by allowing an in depth analysis of how feasible a fuel option is for an individual operation.
One case it conducted on the Gosport Ferry for example, revealed that hydrogen is not a fuel option because of low fuel availability and the frequency of delivery needed.
But analysis suggested that methanol could be an option in the future as it would simple to install infrastructure, it's cheaper and more widely available and it would only need one delivery per month by comparison.
Indeed, Mr Williams said that the methanol option will be atractive for many operators. Ports, for example, could look at investing in minimal infrastructure now to enable refuelling of blue methanol. This is with a view to transitioning to green methanol when it becomes more widely available and the cost comes down.
"If you go that route," he said, "You will have a very easy migration route to carbon zero."