Finnish propulsion giant Wärtsilä has introduced the latest addition to its thruster product portfolio, the Wärtsilä WST-14 steerable thruster, using azimuthing propeller technology. It is aimed primarily at inland waterway cargo vessel applications.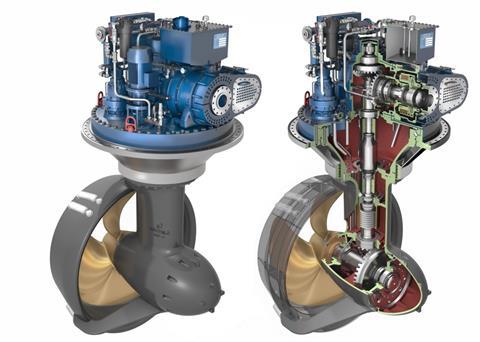 Wärtsilä says the new thruster will provide increased reliability and efficiency, while also lowering costs. Among the many innovations incorporated into the WST-14 are its space-saving compact design, an integrated slipping clutch that provides a cost competitive solution for manoeuvring when combined with a fixed pitch (FP) propeller, and the ability to maintain and service the propeller shaft and steering seals without requiring a complete overhaul of the thruster. It has a straightforward, reliable design and is ice-class rated.
Combining the 6-cylinder in-line Wärtsilä 20 engine with the WST-14 thruster creates a solution package for the specific demands of river and inland waterway operation. It also suits other marine applications, such as tugs, where manoeuvring in harbours and/or ice conditions is required. Compared to conventional fixed pitch (FP) and controllable pitch (CP) propeller drive line solutions, the WST-14 thruster enables a greater load capacity for the vessel. This offers increased revenues for the owner/operator since more cargo can be transported.
"This project began two years ago and we are delighted to announce that the WST-14 is now available to the market. This introduction fills a particular need in the inland waterway vessel sector, and it is already attracting interest from owners and yards in Asia, Europe and America. Wärtsilä is now able to offer a complete and highly efficient propulsion package for this specific market," says Arto Lehtinen, Vice President, Propulsion, Wärtsilä Marine Solutions.
The WST-14 was launched at the Neva exhibition held in St.Petersburg, Russia in September 2015.
By Jake Frith