Innovation is essential for offshore wind and maintenance operators to meet the evolving challenges presented by the industry and achieve cost efficiency, a Dutch offshore self-elevating platform and services provider has said.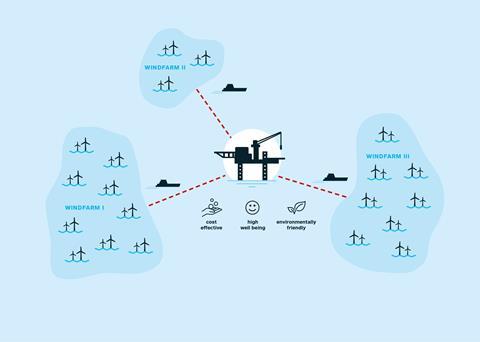 Jack-Up Barge says that current challenges, including wind farms that have spiralled in size from 2-3MW turbines to 12MW turbines, mean the industry needs to create opportunities that support long term sustainability.
Today, journeys offshore to maintain and repair wind farms are getting longer. Jack-Up Barge's JUB-HUB concept offers a stable hotel facility in the field, with local CTVs, significantly shortening the time to work, reducing seasickness and weather related down-time and increasing time on task.
Flexible technology
A JUB-HUB could support a single mega wind farm or be placed at the intersection of multiple large wind farms, with two to three CTVs deploying staff to their work sites each day. It could also be moved from windfarm to windfarm.
It's a cost competitive concept. In a comparative tender, Jack-Up Barge found that using three CTVs at a JUB-HUB offered a significant saving over using three SOVs, saving fuel, daily hire rates and reducing environmental emissions by at least 30%. Additionally, if a JUB-HUB could use local power from the offshore wind farm, zero emissions could be achieved.
Efficiencies can also be gained in P&A and decommissioning operations, using a unit like the Swift 10 and taking a campaign approach, said Jack-Up Barge. The Swift 10 accommodation unit's automated and fully electrified drilling equipment, 80t onboard crane and compact quarters enables a fast learning curve and opportunities to reduce operators' decommissioning burden.
By Rebecca Jeffrey