European dredging specialists DEME and Royal IHC have been awarded a DPC Innovation Award for the world's first liquefied natural gas (LNG)-powered Trailing Suction Hopper Dredgers which are currently under construction.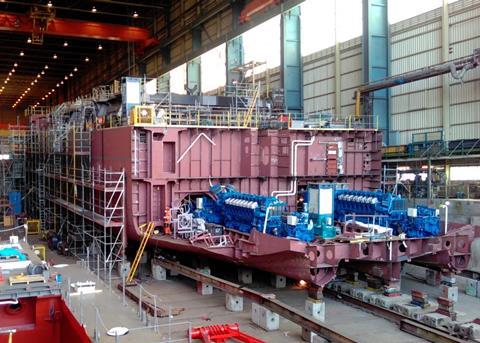 The DPC Innovation Awards consisted of 13 categories looking at the most innovative and forward-thinking projects that the dredging and port construction industry has to offer. DEME and Royal IHC won the award in the "Innovation in Dredger Design" category.
Since a few years, DEME has embarked on a comprehensive fleet expansion programme and a number of vessels are currently being built to significantly increase efficiency, both in terms of productivity and environmental performance.
Alain Bernard, CEO DEME said: "The TSHDs Minerva and Scheldt River, currently under construction at Royal IHC, will be the first dredging vessels in the world that will be equipped with dual fuel engines and capable of operating in full LNG mode. Both dredgers will have a Green Passport and a Clean Design notation and will comply with the strictest international emission requirements. We are very pleased with this award recognising both Royal IHC and DEME for the efforts the teams put into designing and building sustainable solutions."
"IHC started to investigate the possibility of running a TSHD on LNG in 2012," added CEO Royal IHC, Dave Vander Heyde. "We are therefore delighted to be building the world's first LNG-powered hoppers, and to be contributing to DEME's ambition to remain at the forefront of the industry."
By Jake Frith