What is claimed to be the world's first integrated steering and stabilizer fin control system has been introduced writes Dag Pike.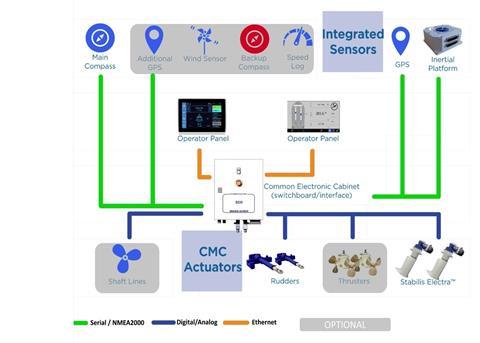 It has been introduced by a partnership between the Italian-company CMC Marine and the French company Sirehna.
The first result of the partnership is the exclusive software Sirehna developed for the new Argo system, which will improve the efficiency of the new systems and vessel control.
CEO Alessandro Cappiello explained, "Argo is an open system consisting of several modules, each one created to offer a certain level of service based on the needs of the shipyard and the owner. We wanted to create a system that can deliver maximum on-board safety, offering better course stability and better steering control, thus maintaining the vessel in a more vertical position. The main beneficiaries will be displacement boats because Argo eliminates once and for all the problem of constant micro course corrections".
The Argo system consists of four different modules. The first is the integrated stabiliser fin and steering control system for better seaworthiness in following seas by coordinating the movement of the rudder and the fins for improved course stability, a smaller wake and reduced consumption even at higher speeds. With the second module it helps to control broaching with the aid of the autopilot.
The third module controls the entire vessel using only a joystick whilst the fourth module incorporates a dynamic positioning system to maintain a specific position at sea or dedicated area. Here the vessel is controlled with a joystick that interacts with the engines, steering, thrusters and stabilisers.
The new Argo system is the most recent result of the investment made by CMC Marine in the development of new electrical actuation systems. The launch of this product continues a strategy of constant innovation and paves the way for the introduction, in the near future, of new developments in the market, which are also the result of the Company's innovative capability.
Sirehna is a French subsidiary of Naval Group and operates in various fields including hydrodynamics and the control of mobile marine units. Pisa-based CMC Marine claims leadership in the market of stabilisation and stern and bow thrusters systems for vessels over 16 metres.