German rope expert, Gleistein Ropes, has presented a new innovative rope construction-type alternative at this year's SMM exhibition in Hamburg.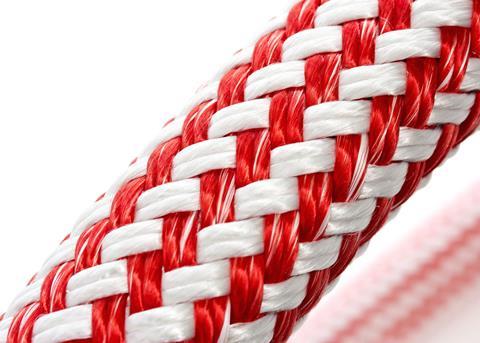 The new rope, developed by the Gleistein R&D department, is an alternative for the 64mm and larger one and square-type ropes. Codenamed CableBraid/CablePlait, the new patent-pending construction type is already showing double-digit increases in initial strength trials.
Also sparking sizeable interest at the exhibition was the firm's pioneering FLX Mooring which combines a low stretch main mooring line with a highly elastic tail acting as the economical sacrificial element.
This means longevity of the main mooring line with Dyneema is dramatically increased and the lifetime costs of the overall system are radically cut, as only the tail will generally need to be replaced.
It's already installed on many large cruise liners including AIDAprima, AIDAperla and Carnival Vista as well as both the Allure and Oasis of the Seas.
In addition, the firm has also revamped the design of several of its rope types including its family of ultra-high performance X-Twin and X-Mooring lines.
A design makeover means that its lines with a mooring-type construction (seven braided cores, firmly bundled in a protective cover) now generally all feature lengthwise markings. This is not only symbolic for their multiple cores, it also makes twists easily visible when in use and thereby provides handy torsional control at a glance.
Meanwhile, the X-Twin and X-Mooring heat-set lines now sport new red markings and the non-heat-set versions will be marked green for easy differentiation.
By Anne-Marie Causer