A new 63.2m passenger ship with innovative three-way propulsion capability has gone into service on Lake Lucerne in Switzerland.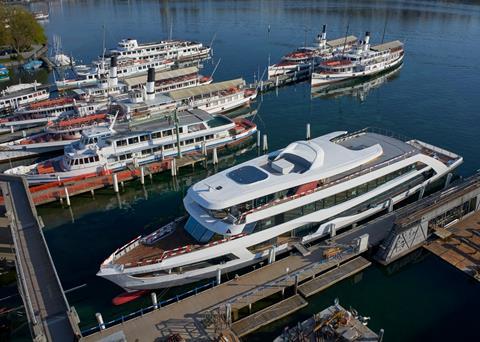 The Lake Lucerne Navigation Company (SGV) told Maritime Journal the 13.2m wide MS Diamant, which draws 1.59m and is for maximum 1100 passengers, had "redefined quality in Swiss passenger shipping" and was one of the most modern ships of its kind in Europe.
It was built by Shiptec, the house shipyard of the SGV, also located on Lake Lucerne, Switzerland's fourth biggest lake and known locally as the Vierwaldstättersee.
Shiptec Head of Naval Architecture and Engineering Martin Einsiedler told this correspondent that right from the start SGV had looked for suitable alternative propulsion systems for the newbuilding that were ecologically and economically viable.
Comparisons had been made on ships with similar operating profiles and based on collated data, SGV decided on a parallel hybrid diesel/electric power and propulsion system with an additional battery package. It comprises two 405kW Scania DI13 Diesels and two synchronised 180kW 1FV 5168-8W S24 electric motors from Siemens. They provide a top speed of 30 kms/ hour and a service speed of25 kms/hour. Battery capacity is 84kWh @ 614V and there are two 180kW variable Sisu/Siemens gensets to secure on-board power in the event of high demand. The ship also boasts a Schottel STT 60 electric transverse thruster
Shiptec said the innovative configuration gives the ship three operating modes: Cruising Mode using the main Diesel engine, Electric Mode using electric power alone drawn from the batteries or gensets and Battery Mode, with all on-board power coming from the batteries alone.
It also said tests had shown that a 14-17% saving in fuel consumption was possible using the hybrid system on MS Diamant while the installation of small-size main engines and other factors would help keep maintenance and service costs low.
SGV was satisfied with the work done by Shiptec. "Alterations were handled professionally and problems that arose were solved in a timely fashion", it said. It added "the project was very demanding but still completed successfully".
It also said that given the "numerous innovations" on MS Diamant, the cost of CHF 15.5 million was appropriate. The Swiss Government contributed to funding the development of the ship's hybrid propulsion system while the Swiss Oil Association helped fund the battery package.
The SGV said that with its elegant and innovative design – not unlike that of a yacht – MS Diamant has already made a big impression on and become popular with customers as an attraction in its own right. It has joined an SGV fleet that numbers 19 and is the biggest inland fleet in Switzerland. The company revealed it now has plans to add a medium-sized catamaran for 300 passengers
By Tom Todd