UK-headquartered maritime training company ECDIS Limited claims that its new ECDIS ACAT service helps bridge the gaps between ECDIS qualifications and Officers' actual real-world competencies to safely operate their vessels' specific systems.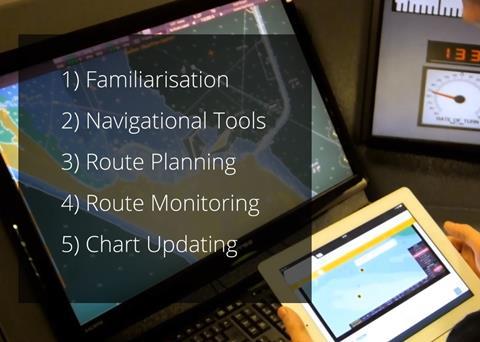 The service has come about, because in spite of certificates held, inspections are showing that Officers are sometimes left wanting in terms of knowledge of their own ECDIS systems, and inspections and incidents are showing that knowledge of electronic navigation is falling short of that which was expected using paper charts.
Few are aware that the world is half way through an international project to train around 1000 Inspectors and PSC Officers in ECDIS. Without doubt, it has already dramatically increased the safety of navigation at sea by providing Inspecting Officers with all the relevant questions that need to be asked for all the 38 manufacturers, regardless of what certificates the Officers hold.
The feedback so far is proving that in some cases Officers cannot practically show inspectors the basic navigation and safety features designed to reduce the risk of groundings. The Inspector training that they are receiving has to be good for the industry, albeit not for some shipping companies that felt comfortable in the past of their Officers competencies, purely because they held `certificates`.
One of the catalysts for the requirement for an Inspectors course in ECDIS was from a recommendation after the high profile MV Ovit grounding in the English Channel, where the investigation noted in Section 2.8.1 of the MAIB report:
'Although the SIRE inspection occurred only 10 days before the grounding, the two navigation-related observations reported indicate that the inspection went into some detail. Nevertheless, the inspection did not identify the crew's lack of competence in using ECDIS, or the significant defect with its audible alarm. It is recognised that audits and inspections are a sampling process; it would be impossible to check every facet of a ship's navigation within a reasonable timescale. However, as ECDIS is replacing paper charts as the primary means of navigation on many vessels, it is imperative that auditors and inspectors are able to identify problems in the way ECDIS are managed, maintained and used. '
ECDIS ACAT currently charges £200 per year, per hull, regardless of Officer numbers or changes, to keep all crew up-to-date on the top navigation elements of the 38 ECDIS manufacturers.
George Ward, Project Support for ECDIS ACAT, said that: "ECDIS ACAT is an effective assurance method of assisting the Maritime Industry as a whole to increase their underpinning knowledge in the make and model of their ECDIS fitted onboard and to keep up-to-date with the constantly evolving software from all the manufacturers worldwide. This product also allows the Ship Manager or Operator to have positive control over their Officers' Annual Competency Assurance with regards to ECDIS, which in turn would reduce their training safety matrix for navigating with ECDIS."
By Jake Frith