Dubai-headquartered offshore support vessel company Topaz Energy and Marine, has announced the renewal of its long standing contract with Swiss electrical giant ABB for the 'Topaz Installer', Topaz's specialized cable laying vessel.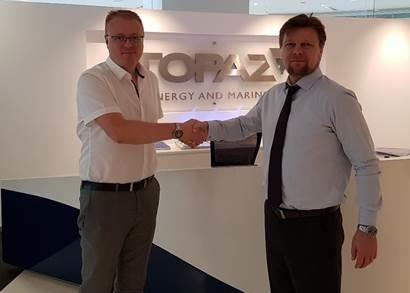 Under the terms of the contract, the Topaz Installer will provide ABB with cable-laying services in support of wind farms in the North Sea for a period of one year plus options of at least 12 months. The contract was first signed in 2010.
René Kofod-Olsen, Chief Executive Officer, Topaz Energy and Marine, said, "We are pleased to be renewing our partnership with ABB which is built on many years of close cooperation. We are looking forward to continuing our work with ABB and the continued provision of exceptional and cost-effective services."
Although perhaps better known to readers of the Power & Propulsion section of Maritime Journal for its expertise in marine motors and pod drives, ABB is also a world-leading supplier of high-voltage cable systems, installation and services for all types of submarine and underground power transmission solutions. With power cable expertise dating back to 1883, ABB has pioneered a range of cable system technologies and has an extensive track record of manufacturing efficient, reliable and powerful high-voltage cable systems.
By Jake Frith