An automated vessel is trialling intelligent autopilot software in the UK's Solent.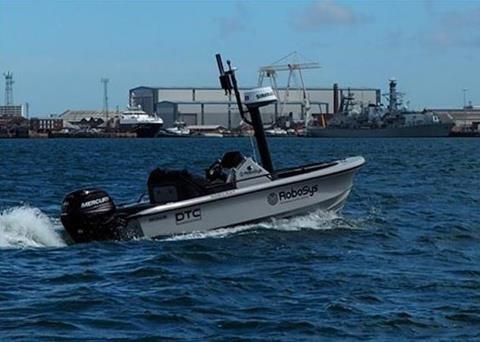 Robosys Automation's RoboRat trials and demonstration vessel was built in close collaboration with Ring Powercraft, Ambex Marine and DTC, Domo Tactical Communications.
Aditya Nawab, CEO of Robosys, said: "We want to combine our software design with the best local expertise available, so we are delighted to be teaming up with Ring, Ambex and Domo Tactical Communications on this – demonstrating the fantastic strength in depth in high tech boatbuilding, electronics and innovation in the Solent area."
Survey capabilities
RoboRat, designed for inshore reconnaissance/ survey, is the smallest offering from the new Ring Powercraft range of Unmanned Surface Vessels custom designed in collaboration with Robosys.
Fitted with SIMRAD navigational equipment and specialist electronics by Ambex Marine, it has a powerful encrypted RF communications link provided by Domo Tactical Communications which allows remote piloting or live data streaming for analysis and evaluation.
Robosys' Voyager autonomous navigation systems software takes information from the onboard chart system, radar, AIS and imagery to plan and execute a safe route entirely in accordance with the collision regulations (COLREGS). It can be calibrated to support any power-driven vessel. It can be incorporated into an unmanned system, or enhance an existing autopilot.
The RoboRat testing programme is focused on optimising the system in busy and confined waters on a small platform to create the most challenging scenarios. Later this year, Robosys will be installing Voyager on two much larger ocean-going vessels for similar trials in a variety of environmental and operating conditions.
By Rebecca Jeffrey