Coming up to a week after the shock BREXIT vote, Sterling and UK stocks are rebounding to an extent, but the main reaction 'Maritime Journal' is getting from the commercial marine industry appears to be stunned silence and confusion.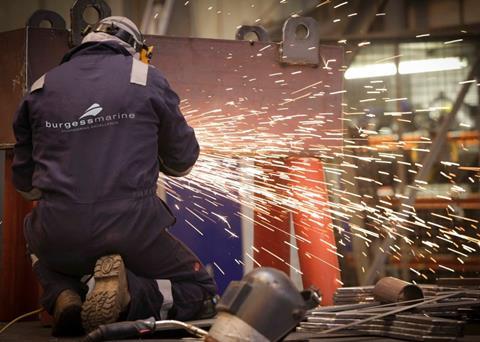 BRITISH EXPORTERS BUOYANT
For UK exporters though, the drop in Sterling appears to be an initial positive. Portchester, UK-based Meercat Workboats is possibly the most exuberantly buoyant-sounding of UK boatbuilders and hoping to reignite its export business based upon the recent result.
The company has built 28 boats to date, exporting two to Norway, two to the Republic of Ireland, one to Sweden, two to Saudi Arabia, one to Tasmania, one to Peru, and one to Australia.
With exports to date totalling a third of the builds the business says it is well-placed to maximise the potential of a lower value Sterling.
Nicholas Warren, the CEO of Burgess Marine, the parent company to Meercat Workboats, said: "The referendum has given us a wonderful opportunity to re-energise our export business.
"Domestically the business is performing ahead of expectations but to open up International markets again, to coincide with the firm's relocation to better premises, is seriously opportunistic.
"We're genuinely excited about some very real export opportunities - this is great news for British workboat building".
The company was already celebrating as it recently enjoyed an excellent Seawork exhibition in Southampton. Having exhibited MC26, the current 15m x 6m stock boat, in water, and also exhibited ashore, the business has three interested parties in the stock boat and two entirely new, serious, prospects.
FINANCIAL SERVICES
Low Sterling, of course might only be a temporary state of affairs, but what nobody seems to be any doubt about is that legislative and administrative costs for any businesses dealing between the UK and Europe are set to rise and London's status as a significant worldwide financial and legislative hub could be subjected to a serious wobble at the very least. The London-based financial services side of the maritime industry is therefore being more circumspect in its comments.
Dave Matcham, chief executive of the London-headquartered International Underwriting Association, said: "Clearly the UK's decision to exit the EU presents challenges for London Market companies and uncertainty surrounding the potentially prolonged nature of this process will be problematic for future planning. Our industry is, however, experienced in responding to change.
"The free trade benefits of EU membership have been vital in maintaining London's position as a global insurance hub and are highly valued by IUA members. This is true both for insurers headquartered in the UK and those international firms that use London as their centre for European business.
"We know that many companies will now be considering their own individual responses. Continued access to European markets is essential and will, I expect, be at the forefront of the process to respond to the referendum decision. The IUA will be working with the London Market Group to ensure our industry's views are fully represented as developments continue."
Regulations governing the conduct of insurance business in the UK have been established in the context of EU membership. The UK was instrumental in developing Solvency II which is an evolution of its own predecessor system. For London Market companies conducting European business, the maintenance of regulatory equivalence will be important.
Mr Matcham added: "The IUA's own research shows that more than 20% of our members' premium income comes from continental European markets. Insurance is almost by definition an international business and in order for it to operate efficiently regulatory developments are pursued at an international level.
"Outside the EU it will still be desirable for UK supervisors to have reciprocal arrangements in place with other national regulators. Otherwise we will see a duplication of compliance costs that will damage companies and escalate costs for clients."
OFFSHORE RENEWABLES
In the offshore renewables sector, most companies appear to be keeping their powder dry when it comes to speaking to the media. We know there are many UK companies in this area that depend upon EU support, but it will not be clear for many months whether a BREXITED UK will be able to afford to or wish to continue to fund these areas.
There are also plenty of European companies invested in UK-based projects. Swedish tidal power developer Minesto, though is one that has broken the silence and has been quick to reassure its investors:
"The referendum results will not affect Minesto's EU project in Wales. The financial support is secured and tidal energy is now more important than ever for the region"
In May 2015, Minesto secured an offer of a €13m grant from the European Regional Development Fund through the Welsh European Funding Office (WEFO), part of the Welsh Government. Brexit does not affect Minesto's EU project, which is now in the delivery phase, to demonstrate its first full-scale device of its subsea tidal kite technology called Deep Green off the coast of Anglesey.
Dr Martin Edlund, CEO of Minesto, on the outcome of the British EU referendum:
"During the period when Britain negotiates the conditions for leaving the EU, the question marks for every overseas business looking to invest in the UK will gradually be answered. What we do know now is that our financial support from WEFO remains in place. This EU-funded project has already seen several new jobs created in Holyhead, and Minesto is fully committed to develop our first tidal energy array and to build our future assembly facilities in North Wales.
"In marine energy, Britain has the potential to lead a new export industry as it is one of the country's most promising emerging industries with significant growth potential. Our assessment is that the political will and different forms of market support will remain and advance."
In all of these statements though runs an underlying message that the only certainty is that there will be a near future of great uncertainty. In times of great change there are always winners as well as losers, but very few companies, in continental Europe as well as the UK seem to have any clear idea yet of which side of that fence they will fall.
By Jake Frith