The year 2016 promises to be another interesting year for Ijmuiden-based Iskes Towage & Salvage with delivery of a new Damen 2810 tug to report along with progress on its newbuilding EDDY tug also due this year.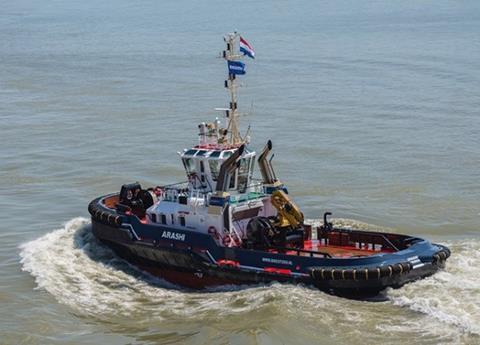 Before we take a detailed look at the Damen delivery it is worth reminding ourselves of Iskes' activities. It operates a fleet of around fifteen modern mainly ASD tugs and is active in harbour towage, offshore services and emergency response. Iskes' harbour towage activities are mainly based at Amsterdam and Ijmuiden, towage provision at the latter dating back to 1928. It is also now operating in nearby Rotterdam with of late the ASD tugs Brent and Mercurius working in Europe's busiest port.
Delivery of the EDDY Tug 24-70 by Holland Shipyard, to be named Telstar promises to be one of the more interesting stories of the year no doubt returned to in this column. In the meantime, Iskes has another new tug to integrate into its family with recent delivery of the Damen ASD 2810 tug Arashi.
The new addition is classed by Bureau Veritas, flies the Dutch flag and is homeported in Ijmuiden. Looking in detail at Arashi's main dimensions: length overall is 25.78m, length extreme 27.9m, length including fenders 28.67m, beam moulded 9.8m, extreme beam (including fenders) 10.43m, depth moulded 4.6m, draught 4.8m and air draught 18m.
Main propulsion is provided by Caterpillar via two 3516C main engines each developing 1,865kW at 1,600rpm driving Rolls-Royce US 205 azimuth thrusters. Auxiliary equipment includes two Caterpillar C4.4 TA gensets each developing 107kVA. Tank capacities include 72.3m3 of gas oil, 14.9m3 of fresh water and 15.7m3 of ballast. Performance figures quoted are 62.2tbp and speed 13.6kn.
Iskes has included a comprehensive deck equipment specification with Arashi. Damen DMT winches are fitted forward and aft, forward a hydraulically-driven towing and anchor winch has a 32 ton pull (at 9.2m/min) and 150 ton brake load. On the aft deck a hydraulically-driven double drum towing winch is installed with a 33 ton pull at 9.5m/min and 35 ton pull at 9m/min, brake load is also 150 tons. Towing provision is supplemented by a Mampaey 650kN SWL towing hook.
Deck space aft is 90m2 and additional deck equipment includes a Heila HLM 20-3S crane capable of lifting 2,000kg (including winch lifting power). A five-ton load capstan is also provided and the tug has fire-fighting capabilities via two monitors delivering a total of 1,200m3/min.
Main supplier of navigation and communication equipment on board are Furuno who supply: two radars, satellite compass, GPS, echo sounder, Navtex, AIS, SSB and Inmarsat C terminals. Sailor and Jotrun supplied the main and portable VHF sets and EPIRB and SART and Simrad the autopilot.
By Peter Barker