A new passenger ferry launched in Naples, Italy is claimed to be the first boat of its kind in the region to be installed with Volvo Penta''s IPS drives. The new ferry, the 'Antares', is fitted with a pair of IPS 900 units and has been built by the Nautica Store Shipyard who will also be the operators of the vessel.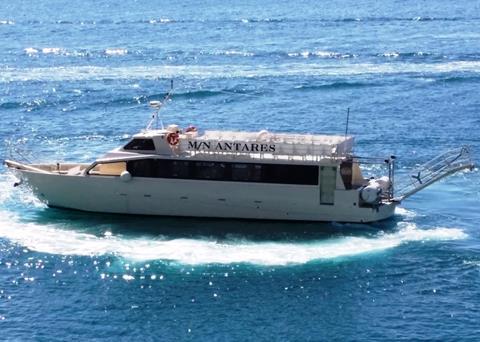 The ferry will operate on passenger routes on the Amalfi Coast between the towns of Salerno, Maori, Positano, Amalfi and to the islands south of Naples. It will make up to eight journeys a day. The Nautica Store shipyard has been operating since 1998 and has 22 other boats in its fleet. The company opted for Volvo Penta's IPS as the best choice of propulsion system for its new passenger ferry. The diesel engine at the heart of the IPS 900 has a power output of 700hp and the ferry will be able to reach top speeds of 39 knots, although its normal cruising speed will be around 20 knots.
The IPS 900 system was chosen by the designer and the shipyard because it provides excellent manoeuvrability and passenger comfort plus low fuel consumption. "We have focused a lot on manoeuvrability, reliability and safety in using the Volvo Penta IPS 900 MC propulsion systems," said Salvatore Gambardella, the designer and builder of the Antares.
The Antares is 20.9 metres long, has a beam of 5.3 metres and can carry up to 180 passengers enabling it to transport around 1,440 people per day on the various routes. It has ramps for boarding at both bow and stern, and a dual driving position with an external helm with joystick control on the upper deck for optimum visibility when docking.
The individually steerable pods, which are controlled by the joystick when in docking mode, enhance the all-round manoeuvrability of the Antares. There is a dynamic positioning mode in the system which allows the boat to hold position, even in strong currents or windy conditions.
She is fitted with Humphree interceptors to control trim creating a lift effect which gives lower wave resistance and thereby enabling faster acceleration and predictable boat behaviour.
"We chose IPS because we will see the benefits in performance with good manoeuvrability and reduced fuel costs plus increased comfort for passengers in terms of a reduction of noise and vibration. We really appreciate all the technical help we have received from Volvo Penta during the construction and delivery of the boat." said Gambardella.
The IPS 900 system is type-approved by Det Norske Veritas which has enabled the Antares to obtain classification from RINA.
By Dag Pike