The AST Group (AST) and partner Goodchild Marine Services Ltd have successfully installed engine-monitoring and telemetry software solution iRAMs aboard the fifth pilot vessel for customer Briggs Group.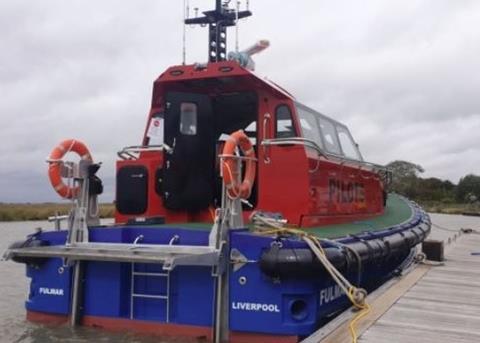 AST has supported sea trials in Lowestoft putting the solution to the test before the vessel was delivered to the Briggs Group in Liverpool.
Goodchild has delivered a series of ORC fast pilot vessels to Briggs that all feature the latest electronics, safety features, and engineering. The vessels, all named after sea birds have been manufactured from an original design by French architects, Pantocarene.
Pilot vessel Fulmar is the fifth vessel manufactured by Goodchild Marine Service for their long-standing customer Briggs Marine, this vessel is destined for use as a pilot launch vessel in the port of Liverpool. Briggs Marine manage and operate the pilot launch vessels from the ports of Liverpool and Heysham, Lancashire. The launch service vessel's role is to ensure the safe transportation, on-boarding, and disembarking of maritime pilots from larger vessels.
Briggs Marine must ensure their vessels are not only safe and seaworthy but operate efficiently. Meaning that vessel maintenance and engine checks are a daily occurrence.
iRAMs is AST's vessel engine, telematics, and asset management solution. iRAMs harnesses the power of satellite communication to monitor maritime vessel performance around-the-clock. Vessel diagnostics can be viewed via an easy-to-use dashboard from anywhere in the world in near real-time.
Goodchild Marine tested Fulmar during a sea trial process in which the craft was put through its paces on the East Coast of England. AST's Technical Sales Engineer, Steve Mitchell was in attendance to support the vessel's manufacturer and operator whilst installing and configuring AST's iRAMs telemetry solution.
With iRAMs, vessel operators and engineers have key data points at their fingertips including boost and pressure, engine hours, engine load, exhaust temperature, fuel consumption, and more. Think of iRAMs as a virtual chief engineer.
ASTs iRAMs software solution enables customers to track vessel performance, remotely. This means that the team at Briggs Marine is empowered to keep an eye on engine performance from their shoreside HQ in the Port of Liverpool.
iRAMs records engine performance data 24 hours a day, meaning Briggs Marine can set tolerances and thresholds from an easy-to-use online portal. Email alerts can be created to trigger if engine performance is outside the desired parameters. This immediate visibility positively impacts the vessel's operational and engineering team by highlighting fluctuations in performance before they cause real problems.
Access to up-to-date vessel data enables and encourages fleet managers to be pro-active in monitoring vessel performance. This improves maintenance scheduling and best practices which ultimately increases efficiency and positively impacts on costs due to maintenance and downtime.
Connect with AST at Seawork Connect from 5th-7th October