The International Salvage Union (ISU) has responded to the possible closure of Lloyd's Salvage Arbitration Branch and risking the future of the globally recognised Lloyd's Open Form (LOF) salvage agreement.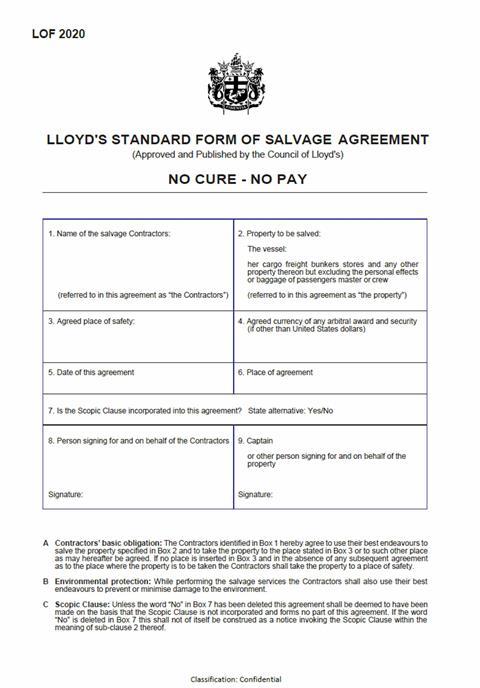 The response comes after ISU received an email from Lloyd's Head of Agency notifying it of a review which is considering 'whether the services of the Lloyd's Salvage Arbitration Branch should be stopped.' While it was unclear what the review means specifically for LOF, the response from ISU was robust stating: '…without the Lloyd's Salvage Arbitration Branch, and the association with Lloyd's, LOF will be gravely, if not fatally, damaged.'
LOF dates back over 100 years and described as the 'contract of choice' for emergency response, a simple agreement aimed at protecting salvor and ship owner when time is of the essence with participants under pressure. While LOF cases have reduced over the years ISU points out that the values of ships, cargo and bunkers along with the complexity of cases has increased significantly citing the recent Ever Given grounding as an example of the greater financial exposure beyond the immediate casualty.
ISU feels that discontinuing Lloyd's support and endorsement for LOF would have a serious impact on safety at sea and a potentially significant impact on the environment as well as the possibility of 'catastrophic losses to communities reliant on the sea for their livelihoods.' There would also be increased danger to seafarers and an inevitable increase in loss of property such as hull, cargo and in business affected ashore.
In particular ISU fears that the great benefits of the associated SCOPIC regime will be lost with a return to the use of the Salvage Convention's Article 14 'turning the clock back more than 20 years.' It adds that while recognising that Lloyd's must be mindful of costs and that history alone is not a good enough reason to persist with an activity, the absence of LOF will have a direct impact on insurers and their clients with financial exposure to losses increasing and shipowners and property underwriters being wide open to common law salvage claims.
ISU sums up by saying: 'We also believe there are potentially very serious reputational consequences for Lloyd's which risks being perceived to be abandoning its interest in preventing marine casualty.'
By Peter Barker